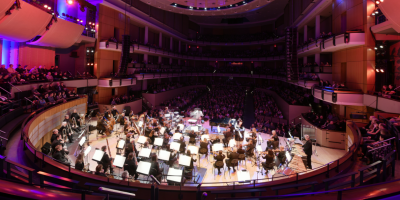 Edmonton Symphony Orchestra
A vital part of Edmonton arts and culture for 60+ years.
It's logical that a creative city like Edmonton would boast an innovative orchestra with a flair for symphonic music in offbeat genres like country and rock. To top it all off, the Edmonton Symphony Orchestra performs incredible live music at The Winspear Centre, one of the finest performance spaces in North America.

Even folks who don't usually flock to symphony concerts may have experienced the magic of ESO when they shared the stage with the likes of Procol Harum, Frank Zappa, k.d. lang, the Barenaked Ladies and many more international musicians. With over 85 ESO performances annually, Edmonton is blessed with a wide-ranging repertoire from classical masterworks to hip-hop, pop and children's concerts, all taking place at downtown's Francis Winspear Centre for Music. Their 56 professional musicians not only perform 42 weeks each season, they also play an active role in Edmonton's music scene as teachers, recording artists and performers in the orchestra for Edmonton Opera and Alberta Ballet productions. No wonder they debuted in Carnegie Hall in 2012 as part of their Spring for Music festival!