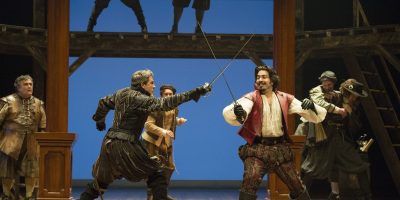 At long last, The Citadel Theatre is BACK! A hive of live theatre, the Citadel is Edmonton's multi-stage entertainment hub where the city's finest actors and comedians strut their stuff.

When the lights dim and the heavy red curtains swing open expect an evening immersed in laughter, excitement, raw emotion and pure entertainment. A five-theatre multi-purpose complex in the Downtown Arts District, the Citadel is Canada's biggest regional performing arts centre. Insightful performances have brought to life works from Shakespeare to Tim Rice, Moliere to A.A. Milne, often including participants from the theatre's training collaboration with the prestigious Banff Centre Professional Theatre Program. Committed to presenting diverse, high-quality experiences and engaging new audiences, the Citadel has converted one of its theatres into The Club, an intimate performing space that is the venue for an annual Beyond the Stage series of creative cabaret offerings.

Scroll down to watch this year's season announcement!