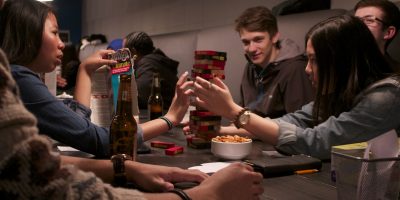 Board Game Cafes
For your night in, out of the house.
The Hexagon Board Game Cafe
10750 82 Avenue NW | 1-780-757-3105
Whether it is a dark cold winter day or a blisteringly hot summer afternoon, The Hexagon Board Game Cafe has you covered! It's the first board game cafe in the Old Strathcona area of Edmonton. Here, you will find the highest quality espresso-based beverages, beers, soda, and (of course) board games. Over five hundred board games, in fact. Their games cater to everyone–the young and old, party gamers and strategic gamers, the experienced and inexperienced gamers.
Table Top Board Game Cafe
5716-75 Street | 1-587-524-5323

Experience the 'Golden Age' of board games! Settlers of Catan, Ticket to Ride, Cards Against Humanity and Betrayal at House on the Hill are just a few of the 700 hundreds of games to play at Table Top Café. As diverse as Edmonton's festivals, everyone will find something to enjoy from gut-busting party games to well-planned strategic and tactical experiences.
For only $10 per person, you can play as many games as you like for as long as you want. The café also sells board games creating a unique "try it before you buy it" experience. A variety of pizzas, paninis, snack food, coffee and beer available. All ages welcome.
Board N Brew Cafe
9929 103 Street | 1-780-757-8262
If board games and delicious beer sounds like your thing, stop in at Board N Brew to choose from hundreds of games to play and a great selection of local craft brews. Strategize and battle it out with your pals while you sip on seasonal and year-round flavours from Yellowhead Brewery, Alley Kat Brewery and Situation Brewery. For only $5 per person, you can stay and play as many games as you like for as long as you want. They've got difficulty levels for everyone to enjoy, and if you need help getting started with a game, just ask one of their experienced Game Masters for a helping hand!