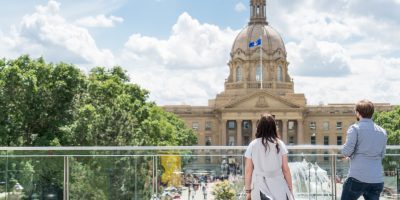 Known to Edmontonians as "the Ledge", the Alberta Legislature Building is a marvel of marble pillars, carved oak, beautiful Beaux-Arts architecture and stunning grounds. Set atop the banks of the North Saskatchewan River, this is the backdrop to the province's political action.

Free guided tours are offered hourly. Ask about the Famous Five who fought for women's' right to vote. Learn the fascinating stories behind the portraits and magnificent art. Glance at the bejeweled gold and silver ceremonial Mace. And don't forget to listen for the phenomenon known as the "magic spot". Regardless of the season the Legislature grounds and rotunda are a great place to spend an afternoon with the family. During the summer months, bring your bathing suit and spend some time in the wading pool, which is the perfect size for children to splash around in and for bigger kids to relax their tired feet. Be sure to pack a picnic — with plenty of benches and landscaped areas to retreat to when you need a chance to dry off. In the winter, put on your snow boots and wander the grounds surrounded by frosted trees wrapped in garlands of light.

Just north of the Legislature Building, you'll find the brand new Visitor Centre on the main floor of the Federal Building. Open year-round to the public, it features the Pehonan Theatre, the Agora Interpretive Centre, and the Borealis Gallery. Learn about the history of the province and feel as though you experienced it yourself with the new, state-of-the-art 4-D theatre. This isn't your typical theatre, you will actually feel the snow and wind on your face as you step back in time with Princess Louise Caroline Alberta. From lively summer festivals to celebrations during the holiday season, the grounds are always a hub of activity, check out their event calendar to see what's on!

Click here for a map of the Legislature grounds! The Legislature is also offering free virtual tours every Friday at 12:15pm. Visit them on social media for more information.