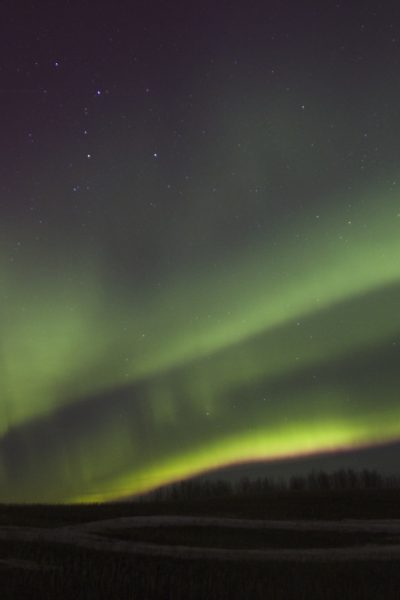 Photographing the Northern Lights in Edmonton
The most amazing light shows require the darkest stage. While there are some instances where you can look up in the sky and see the Aurora Borealis dancing over the city, your best bet to see this display is in a nearby dark sky preserve. Lucky for you, a short 40-minute drive to Elk Island National Park will get you the best seat in the house. Elk Island National Park is part of the Beaver Hills Dark Sky Preserve; 300 sq kilometres of reduced artificial light that allows you to see a bright world of stars, and of course, the northern lights.

Get those cameras ready to capture the greatest show on earth with these handy photo-tips.
The darker the area, the clearer the sky. Cloud coverage can impede your view of the aurora, so check out the local weather forecast to make sure you are going out on a clear night. Not everyone is guaranteed a glimpse of this natural beauty, which makes it even more magical. Increase your chances by checking out Aurora Watch – a real-time monitor of geomagnetic activity in the Edmonton area!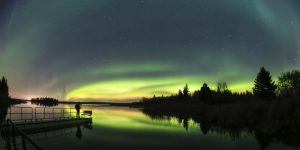 Tips for Shooting with a DSLR Camera
You've dropped some well-earned dough on a fancy camera, now here's your chance to use it! Take the kind of photographs worth hanging up on a wall with these handy tips.
Bring a tripod and a shutter release. You will be capturing these photos in the night sky which means you will be using a slow shutter speed. Lockdown that tripod for the clearest shots.
A wide-angle lens with a fast aperture will work great for capturing beautiful landscapes.
When shooting a night sky, it may be difficult to see what is in focus through the viewfinder. Try setting your lens to infinity focus and take some test shots.
Open up your aperture to the lowest number it can go. With the only light source being the night sky, you'll want to capture as much light information as you can.
Your exposure times will likely be around 10-15 seconds depending on the speed of the aurora, experiment with different settings to see what works best for you.
Tips for Smartphone Photographers
Smartphone camera technology has made incredible progress over the last few years, so there's no reason you can't capture awe-inspiring images with your phone alone. Here are a few tips to help you walk away with Instagram gold.
There are a few apps to help you capture the northern lights– give them a try! Apps like Northern Lights Photo Taker (Available on iOS), Cortex Camera (iOs/Android) or NightCap Pro (iOS) work wonders.
Use a tripod. You can find affordable phone tripods on Amazon.
If your phone has a manual mode available, try the same settings from the DSLR tips section!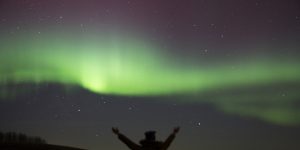 Not only do you want to gear up with spare batteries and additional lenses, but make sure you take care of yourself as well. Bring extra layers of clothing, a fold up camping chair and some snacks. It's just you and the wilderness out there, so unless you want to eat some foliage like the roaming bison, a few snacks may go a long way.

Be safe. Checking out your environment during the day will better prepare you for night. You don't want to get the perfect shot and then trip over a tree and drop your camera!