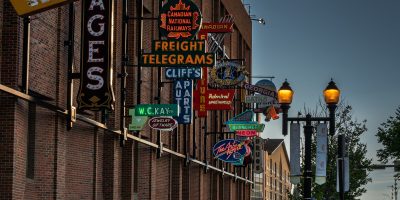 4th Street Promenade
A sophisticated neighbourhood in the heart of downtown.
4th Street Promenade is the area on 104th Street between Jasper Avenue downtown and the ICE District. Here you'll find local shopping, iconic restaurants, and historic buildings. Upscale fashions and furniture can be found next door to small artisanal crafts and artifacts, and many of these shops are found within the historical buildings from the old warehouse district.
Historical touches are all over 4th Street Promenade, and one of the best — and tastiest — places to start is the Mercer Warehouse building. This former cold-storage plant is home to the Asian-inspired cocktail bar, Baijiu, that offers shareable plates to accompany its innovative drink menu.

The culinary adventures don't stop there either. Credo Coffee is a relaxing spot for a fresh-brewed caffeinated drink and homemade baked goodie. Wine and cheese lovers will not want to pass by The Cavern, where you can sit down and sip a delicious glass of wine or take home selections from their attached cheese shop. If you are looking for a fine-dining evening, Corso 32 has you covered with an intimate modern atmosphere and traditional Italian classics.
The outside walls of the Mercer and TELUS buildings play host to the Neon Sign Museum. This open-air showcase is the first of its kind in Canada, and it displays 20 functioning neon signs from throughout Edmonton's past. The signs range from theatres and freight telegrams to restaurants and furniture showrooms. It adds a unique, throwback ambiance of a bygone era to the Promenade.