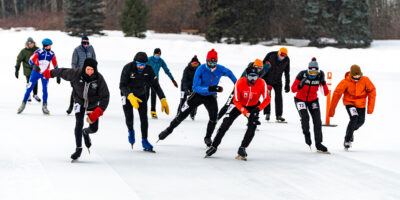 Silver Skate Festival
Celebrate culture, recreation and winter sports!
February 9 – February 19, 2024
Time

Street Address

Sir Wilfred Laurier Park - 13221 Buena Vista Road, Edmonton, Alberta
Celebrating over 30 years, Silver Skate is an extravaganza of arts, culture, recreation, sport, and culinary delights! Feel the breeze on your face as you skate along the ice and listen to a compilation of Edmonton-based music. After working up an appetite, indulge in local delicacies!
Head to one of the tents for Spirits on Ice to get a taste of the best local restaurants, breweries, and distilleries. Enjoy your treats as you warm up beside one of the fire pits. Then sample some of the most delicious and locally-sourced dishes around in the heated outdoor tent.
These culinary experiences are just the tip of the iceberg when it comes to Silver Skate activities! Marvel at the artistic talent on display in the Snow Sculpture Garden, explore the Folk Trail, listen to local Indigenous elders' oral histories via Night Sky ᐋᒋᒧᐃᐧᐣ âcimowin story telling, and more.
View the Silver Skate Event Schedule here.

** The festival has changed locations this year, please be advised**