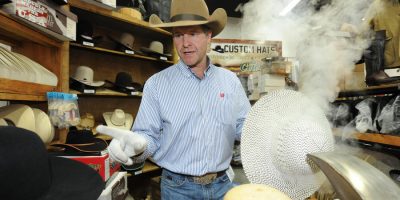 Farmfair International
Kick up your heels at a real Western agricultural fair!
Kick up your heels at a real Western agricultural fair complete with cattle shows and cowboys, stock dog trials, a rodeo, saloon and all at Farmfair International.

Adrenaline permeates the air as 15 working ranches from across Western Canada compete for top honours in challenging events like bronco riding, barrel racing, wild horse racing and wild cow milking during the Heritage Ranch Rodeo. Watch clever canines perform in stock dog trials and speedy horses herd cattle during penning competitions. Northern Alberta is all about ranchlands and Edmonton is surrounded with the country's densest cattle populations so it makes sense that this is where Canada's premier agriculture showcase takes place, at Edmonton's EXPO Centre.

For more than four decades Farmfair International has been annually parading over 15 different purebred cattle varieties in front of dozens of international buyers from the US to Brazil, Russia to Kazakhstan. But there's plenty for non-commercial visitors to do as well, like heading to the Country Marketplace to shop for all things Western. Pick up those chaps you've always wanted at one of 250 booths offering leather goods, saddles, clothing, home décor and top Western art. Stop by the food stalls where homegrown Alberta delicacies are sold, from local smokehouse jerky to flavoured honey and kimchi. Then finish up the day sipping a cold one at The Saloon.