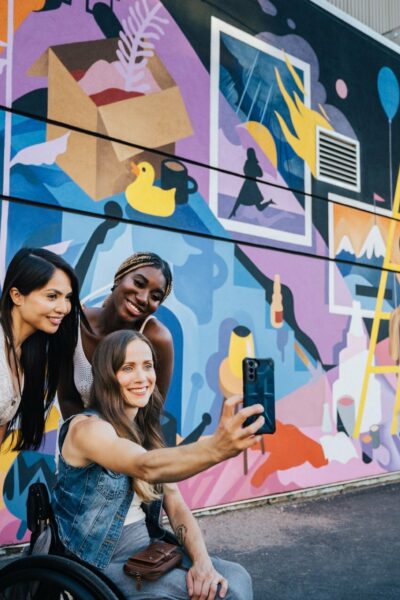 Best Selfie Spots in Edmonton
Let's face it, we love taking selfies! Lucky for us, Edmonton is overflowing with picture-perfect spots that are just begging to be Instagrammed. Step up your social game with selfies at these iconic, snap-worthy locations. Don't forget to tag #ExploreEdmonton in your social posts!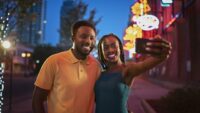 If you're looking for the perfect backdrop for your next selfie, the Neon Sign Museum along the side of the Mercer Warehouse building is a must-visit. This stunning row of vintage neon signs offers a pop of color against the brick wall, creating a photogenic scene unlike any other. The historic signs showcase advertisements from businesses long gone, painting a picture of the city's past. Visit during the day for bright, vibrant colors or come at night for a truly magical experience as the signs light up the sky with an array of colors!
Sid's Selfie World is a unique and exciting destination for anyone looking to capture the perfect selfie! With its range of fun and vibrant backdrops, it's the ideal place to let your creativity run wild. Located on popular Whyte Avenue, you can stop along the way while exploring the neighbourhood!
Selfie-Worthy Restaurants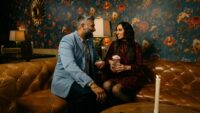 When dining in some of Edmonton's finest restaurants, it can be hard to resist capturing the moment with a photo. Don't be shy, snap away! From the charming atmosphere at The Moth Café to the elevated vibe at Alchemy Bar, there's no shortage of picture-perfect moments to be had. It's also worth snapping a selfie in Brew + Bloom, Baijiu, Fu's Repair Shop, Boxer, DOSC and El Cortez. Each of these restaurants offers a unique aesthetic that's sure to make your pictures stand out.
On the hunt for a chic and stylish background for your selfies? Downtown Edmonton's ICE District is the perfect spot. This modern, upscale area boasts breathtaking buildings that combine glass and steel to soar sky-high, providing the perfect backdrop for your photos. The intersection of 104 Street and 104 Avenue is particularly picturesque, offering a sleek and sophisticated vibe that is sure to elevate your Instagram game.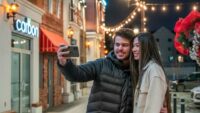 Are we in Europe?! No, it's Manchester Square! Located just blocks from the bustling 124 Street shopping district and Brewery District, this new development makes for an adorable (and colourful) photo backdrop. If you're looking for a fun and lively shot, head over to the outdoor fountain and strike a pose. The colourful and playful design of the square will add a pop of personality to your photos! Or, if you're looking for a more relaxed, laid-back vibe, take a seat on the patio at Arcadia Brewing Co. and snap a selfie with a cold beer in hand.
The Muttart Conservatory is a truly one-of-a-kind location for selfies. With its iconic glass pyramids housing botanical gardens, it's a must-visit for anyone looking for a unique backdrop. Admire the Muttart's pyramids from afar, or up close and personal. As you explore the different gardens, you'll feel like you've been transported to a secret world, with lush greenery and exotic plants all around you.
Constable Ezio Faraone Park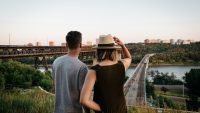 Constable Ezio Faraone Park offers a stunning view of the High Level Bridge that serves as the perfect background for a selfie! The bridge's beauty is accentuated even more when it is lit up with 60,000 LED bulbs at night. During the summer, you can also capture the High Level Bridge Streetcar that runs atop the bridge. The park also provides easy foot access to the south side of the North Saskatchewan River via 109 Street.
The modern architectural design of City Hall is perfect for capturing selfies, with its sleek glass façade and unique dome-shaped roof. Whether you're standing in front of the building's main entrance or posed by one of its many beautiful gardens and fountains, a selfie at City Hall is sure to be a standout. Plus, it's located right in the heart of downtown, so it's close to many other picturesque attractions!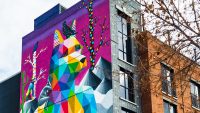 Take your Instagram game up a notch by posting a photo in front of the Crawford Block Mural. This piece of street art was created by world-famous artist Okuda San Miguel. His works can be seen in the streets and galleries of India, Mali, Mozambique, the United States, Japan, Chile, Brazil, Peru, South Africa, Mexico, and more. To get a closer look at the rad geometric shapes and organic forms, grab a seat on El Cortez's outdoor patio and sip on a tasty cocktail while you enjoy the view.

If you're a fan of taking mirror selfies, the Talus Dome should be your next stop. As the city's most expensive and thought-provoking piece of public art, the dome is a true spectacle. Made up of nearly 1000 steel balls arranged in an abstract talus shape, the structure is located beside Quesnell Bridge and is a must-see. The unique design of the Talus Dome provides a fun house-like experience. The reflections you can capture in the steel balls are warped and humorous, making some extra special selfies!
Borden Park's 'Vaulted Willow' is an absolute stunner. Created by MARC FORNES/THEVERYMANY, the project's aim is to "resolve and delineate structure, skin, and ornamentation into a single unified system." We like everything about it: the shape, texture, and colours. Does the structure remind anyone else of Sully from Monsters Inc? Oh, just us? Ok cool.

Keillor Point (End of the World)
The Keillor Point lookout is a hidden gem waiting to be discovered by selfie-takers. Perched atop an aged retaining wall along the banks of the North Saskatchewan River Valley, the lookout offers a spectacular view of the surrounding area. Head just off the walking path near 74 Avenue and Saskatchewan Drive to capture a memorable selfie with the stunning backdrop.

Alberta Legislature Grounds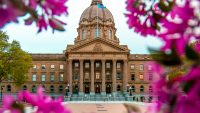 The Legislature grounds provide the perfect backdrop of historical grandeur mixed with natural greenspace. The Legislature buildings themselves are striking, with marble pillars and intricate carvings that will catch the eye of anyone viewing your photos. Portraits out on the sprawling lawn will always leave your Instagram audience in awe. Shots of the fountain, impressive in daylight and even more so when it lights up with bright colours at night, are also a photo favourite.

The Tawatinâ Footbridge is a popular spot for taking selfies, and for good reason. The bridge offers breathtaking views of the city skyline and features more than 400 stunning Indigenous artworks. This is a must-visit for lovers of nature, art and expansive vistas. And with its convenient location, it's easy to fit the stop into your itinerary.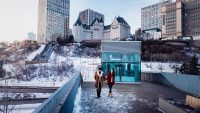 Take your selfie game to new heights with a ride on the 100 Street Funicular. With its stunning views of the river valley and its glass-walled design, this unique mode of transportation offers the perfect opportunity to capture breathtaking photos. Start your photoshoot at the bottom, with the Fairmont Hotel Macdonald as your backdrop. The minute-long ride provides ample time to snap selfies with the incredible view in the background, and the lookout at the top offers an even more impressive vista.

The Art Gallery of Alberta is a top destination for art lovers and selfie enthusiasts alike. The stunning modernist building, designed by Canadian architect Randall Stout, serves as the perfect backdrop for your selfies. With its unique architectural features and spacious galleries filled with world-class art, you're sure to find the perfect spot for a picture-perfect shot.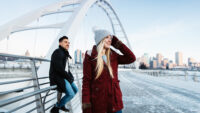 The sleek arch of the Walterdale Bridge is always a stunning photo backdrop. Stretching across the North Saskatchewan River, the bridge is easy get up close to for detailed pictures, and it's visible from afar for more picturesque river valley scenes.

Edmonton is home to a thriving arts scene, and that's evident in the city's vibrant murals. These public works of art are a great way to add some color and personality to your photos, and they provide an excellent opportunity to capture some unique and memorable selfies. From the vibrant and eye-catching murals in the historic neighborhood of Old Strathcona, to the large-scale murals in the trendy district of 124th Street, you're sure to find a piece of street art that speaks to you.