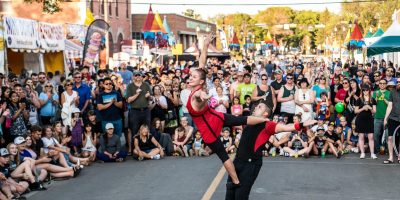 Edmonton International Street Performers Festival
Hit the streets and honour the 'pass the hat' tradition!
July 8 – July 17, 2022
Time

Street Address

Sir Winston Churchill Square, Edmonton, Alberta
Coming out of hibernation hungry for real reality! The Works Art & Design Festival and The Edmonton International Street Performers Festival are teaming up to present variety performers, visual art, shenanigans, music, food, and fun.

The Edmonton International Street Performers Festival transforms Churchill Square into an outdoor 3-ring-circus featuring the world's best local, national and international street artists. StreetFest delivers spectacle, comedy, music, variety performances and physical feats, as well as workshops to help release your own inner-entertainer. Be part of the crowd and take in an incredible circle-show, actively engage with an installation, watch mimes pull laughs out of thin air or let the roving performers bring the show to you. A whirlwind of acts, a tempest of entertainment, a deluge of fun - all on street level. Larger-than-life entertainment of the ages, suitable for all ages.

Admission - you decide by honouring the 'Pass the Hat' tradition!