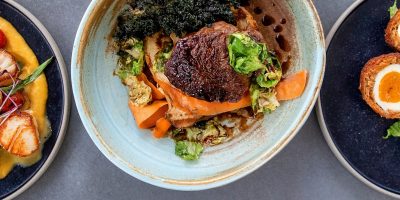 Downtown Dining Week
Eat your way through the best restaurants in downtown Edmonton!
March 15 – March 26, 2023
Time

Street Address

Various Locations, Edmonton, Alberta
Keep those cravings local and indulge at your favourite downtown restaurant during Downtown Dining Week! From March 15-26, tempt your taste buds with some amazing grub with an array of multi-course menus available from some of Edmonton's best eateries. This celebration of Edmonton's diverse culinary scene gives diners an opportunity to enjoy special fixed-price menus from participating restaurants.

Hungry for more? Check out the Edmonton Downtown Getaway Contest! You can enter to win an evening of food, entertainment, and luxury accommodation — all in the heart of downtown.