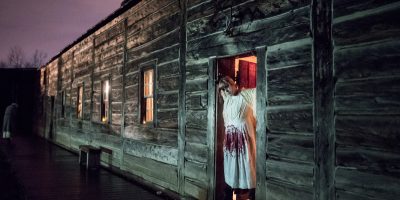 DARK
Three horrifying attractions at Fort Edmonton Park!
Select nights in October
Time

Street Address

Fort Edmonton Park - 7000 143 Street, Edmonton, Alberta
DARK has officially returned to Fort Edmonton Park! Find out what lingers deep in the shadows of Edmonton's River Valley. From haunts in the countryside, to nightmares at the circus, horror themed quiz nights, and virtual craft cocktail experiences - prepare yourself for an unforgettable month of chills, haunts and horrors at Fort Edmonton Park!

Gather your crew and buckle up for a terrifying experience like no other. Good luck getting through this one, friends. Your DARK ticket includes three haunts (Under the Big Top, Core Industries and Blood Harvest) plus access to an outdoor Halloween festival with food, beverages, and live entertainment. And don't miss the return of The Raveyard! Look for local DJ Thomas Culture aka 'The Groove Digger" at the Midway White Tent every night of DARK to get your groove on!
Awaken your spirits with a virtual DARK craft cocktail experience. Your ticket includes a Spirit Box - a sinfully delicious assortment of spirits and cocktail mixes to create a truly chilling night for you and your friends. Simply follow along as your wicked host shows you how to make three Halloween themed cocktails that are sure to please your dark side.
Quiz Night is back for a second year in a row. Tune into Instagram Live every Monday night in October at 7:00 pm MDT for all things creepy, gruesome and blood curdling! Our horror host will test your knowledge of terror and you'll have a chance to win some truly wicked prizes! FREE
Customize your DARK experience this season and add our Food & Beverage Tickets. Enjoy delectable eats from local food trucks: Curbside, Jackie O's Sweet Treats, Spaghetti Cone Food Truck and Laker Coffee. Plus, you won't want to miss the delightfully terrifying adult cocktails.

Did you know you can stay the night at the Hotel Selkirk following your DARK experience? Room rates start at $159 based on double occupancy and include a DARK cocktail in the hotel lobby and a surprise escort to the event. To check availability or book your room, contact hotelselkirk@fortedmontonpark.ca.
Photos courtesy of Marc J Chalifoux Photography