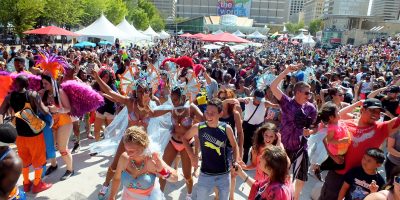 Cariwest Caribbean Arts Festival
Three party-filled days of Caribbean culture hit the streets of downtown.
August 5 – August 7, 2022
Time

Street Address

Federal Plaza Building - 9820 107 St, Edmonton, Alberta
Cariwest, Edmonton's annual celebration of Caribbean arts, music and culture, takes over Churchill Square this summer! Get a taste of Caribbean favourites like Jerk chicken, Roti, Patties and much more. Afterwards, enjoy some authentic rum from the Rum Gardens at the Caribbean Village. Head down to check out the many performers in elaborate costumes and so much more. Stay tuned for details on this year's festival, coming soon!