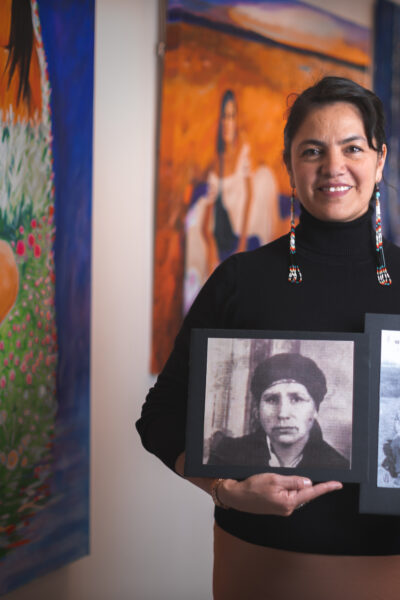 History in the Making: Lana Whiskeyjack
This article was created by Indigenous Tourism Alberta. Indigenous Tourism Alberta (ITA) is a non-profit organization devoted to help grow and promote authentic, sustainable, and culturally rich Indigenous tourism experiences. Read on to learn more about how artist and curator, Lana Whiskeyjack, finds a sense of identity and culture through her grandparents' teachings and art.
Lana Whiskeyjack of Whiskeyjack Art House
A sense of identity goes beyond first and last names. For Lana Whiskeyjack, co-owner and curator of Whiskeyjack Art House located in Amiskwaciy (Edmonton, Alberta), her identity is tied to her family's history and her connection to the land.

Whiskeyjack recalls the story of how her original last name, kwêskácahk, was changed to a colonial version: Whiskeyjack. Due to the difficult pronunciations, name changes were common for many Indigenous Peoples throughout Canada, forever changing their self-identity. Despite that, the English name became an important part of her and her family's lives. So much so that, on the 50th wedding anniversary of her grandparents, Whiskeyjack recalls an important conversation with her grandmother.

"She just really wanted me to promise to never get married but I said I couldn't promise that, but I promise to never change my last name," she says.

Keeping the name maintains a family matriarchal connection, Whiskeyjack says. "My family endured so much grief and loss, but also power, skills and stories that are connected to our name." Whiskeyjack honours that promise to this day. "It is important to care for our grandmothers. I'm grateful that we're able to continue carrying the name."

Whiskeyjack is originally from Saddle Lake Cree Nation from Treaty Six territory, but she received a beautiful teaching during her upbringing: she is from this land, not a place with a name. "Our Cree creation stories tell us especially that we're free," she says. "Our spirit came from the cosmos and the heavens, we're made of four parts of the earth." Whiskeyjack says she has a role and responsibility to reconnect to the teachings of her culture and the land. She aims to maintain the connection to both.

"Edmonton is a gathering place for many of our nations and it's important that we come together and build those relations (between teachings and the land)."

Whiskeyjack Art House is a testament to her passion for reconnecting to her culture and teachings. Whiskeyjack is passionate about Indigenous tourism because it provides opportunities of connection and understanding.

"Bringing practices of kindness, sharing, being honest and courageous are principles into creating good relations through Indigenous tourism," she says. "Indigenous people carry so many beautiful teachings, traditions and stories of this land that the rest of Canada and visitors to these lands can learn, and build a healthier relationship with the land."