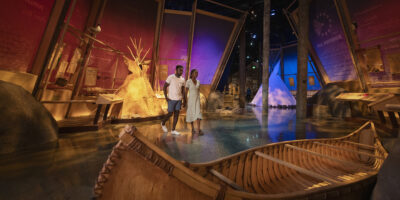 Indigenous Peoples Experience
iyiniwak okiskêyihtamowiniwaw
Contact Information
Street Address

Fort Edmonton Park - Fort Edmonton Park Road, Edmonton, Alberta
The Indigenous Peoples Experience at Fort Edmonton Park has extended.
Hours: Saturdays and Sundays from 12 pm - 4 pm, from January 14 through March 26, 2023
Gather and explore life through the diversity of First Nations' and Métis peoples' histories, cultures, experiences, and perspectives, local to Indigenous life in the Beaver Hills region. The stories, music, artwork, and text in the experience come from local Indigenous perspectives and voices, gathered through engagement with local Indigenous communities, historical documents, and research.
These stories, teachings, and memories reflect a rich and resilient history and deep connection to the land and seasons. Whether in Cree, Dene, Anishinaabe, Nakota, Blackfoot, or Michif, this shared knowledge is timeless.

Like last year, each ticket holder for the Indigenous Peoples Experience will receive one free general admission ticket of equal or lesser value for the 2023 summer season. The promo code for booking tickets is their original ticket barcode.