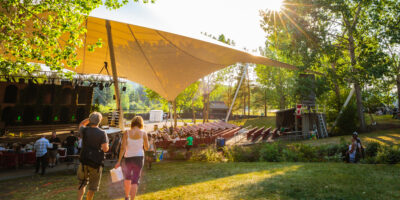 William Hawrelak Park
A year-round gathering spot in the heart of the city.
Hawrelak Park is temporarily closed for park rehabilitation, beginning on March 13, 2023 for three years. The river valley trail system around the perimeter remains open for users but occasional, short-term detours of trails may occur. There are many other great river valley parks to enjoy during the closure such as Louise McKinney Riverfront Park, Rundle Park, Victoria Park and Emily Murphy Park. Additional parks and amenities can be found at edmonton.ca/parks.

The perfect place for a picnic or to take in a festival, Hawrelak Park is one of the jewels of Edmonton's beautiful river valley. Explore the many trails by foot, bicycle or even cross-country skis or sit back and enjoy one of the amazing festivals that take place year-round. From the Edmonton Heritage Festival in the summer to Silver Skate and Ice Castles in the winter, there's never a dull moment.