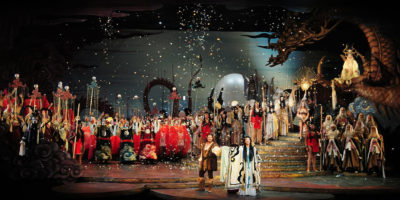 Edmonton Opera
The power of live performance.
A hub for Edmonton's arts and culture for over 50 years that brings some of the world's best artists to the Jubilee stage.
Your opera experience begins the moment you walk into the Jubilee Auditorium: you have just arrived at a world-class venue to enjoy an art form that promises to leave you in awe. Whether you dress up or dress down, make sure to grab a drink and immerse yourself in an evening of culture. You'll meet a diverse crowd at the opera, so get social and chat up other art lovers! You can even head downstairs to attend a pre-show talk, where you will learn more about the story, music, and scandals surrounding the night's opera.
As you take your seat inside the auditorium, know that you will be seeing a production that brings together local, national, and international talent for an unforgettable evening of music and theatre that will capture your senses. Prepare to be blown away as singers fill the space with their pure and unamplified vocals, accompanied by the Edmonton Symphony Orchestra in the pit.
Your evening at the opera will rejuvenate your spirit and remind you of the power of live performance. Leave behind the hustle and bustle of life and enjoy one of Edmonton's finest artistic offerings.