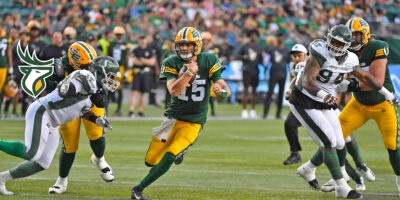 Edmonton Elks
Cheer on the legendary green and gold at The Brick Field at Commonwealth Stadium.
Edmonton loves its football. So grab a drink, a hot dog, and join the fans at The Brick Field at Commonwealth Stadium as they watch the Elks get one step closer to the Grey Cup. The Canadian Football League plays with different rules to our American cousins. With only three downs to score a touchdown, you'll catch some spectacular plays.

The Elks live for rivalries, so be sure to get tickets for the Battle of Alberta where they take-on the Calgary Stampeders. Look for painted faces in stands, and a historic battle on the field.

Catch the season's home opener on June 11! The regular season typically runs from June to November, after which you can bundle up for three weeks of thrilling CFL playoffs.