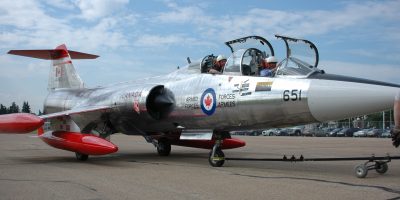 Come and explore the vintage aircraft that spurred the romance, courage and clashes that mark the last century of flight. The Alberta Aviation Museum is located in the last remaining double-long, double-wide hangar from the World War II era, and at over 75 years old, is a protected municipal and provincial historic resource.

Check out the de Havilland Mosquito, a World War II combat aircraft, and the Cirrus Moth, one of the earliest examples of aircraft in Edmonton. Explore their new displays, and test your own piloting skills on the flight simulator. Learn about historic aviation achievements, from bush flying to famous war battles, as well as Northern Alberta's rich aviation history. Medals, badges and vintage photos take you inside the heroic journey of Canada's famous aviators.

Journey to discover the wonderous history of Blatchford Field – where, for almost a century, countless pioneers of flight helped develop Edmonton as Canada's Gateway to the North. Explore the evolution of flight in Alberta – from bush planes, bombers, jets and more! Let the Alberta Aviation Museum be part of your story.

The museum is a leading steward in the preservation, education and promotion of Alberta's rich aviation history. Their focus is to boldly share Blatchford's aviation stories and shine a spotlight on Edmonton as a gateway to Northern Alberta and a window to the world. Witness interactive displays and an extensive collection of over 30 historical aircraft, all housed within the authentic WWII air hangar. The museum is a top travel destination for families and travellers looking for unique experiences and inspiring tales of Alberta's tenacious aviation spirit. The Alberta Aviation Museum is where history takes flight!

Summer fun starts here!
Exciting plans are in place to welcome back the museum's flight simulators and J-Copters to folks of all ages and the promise of adventure returns for kids aged 4-10 through Discovery Backpack rentals. Take a peek at the museum's latest aviation projects through Restoration Tours being offered every Thursday and Saturday. With over 30 historical aircraft exhibits, there is something for everyone to explore and more!

Summer plans have never been so achievable with this year's reintroduction of the museum's online timed-entry ticketing system. Advanced, time-entry tickets are now available for sale online at www.albertaaviationmuseum.com.