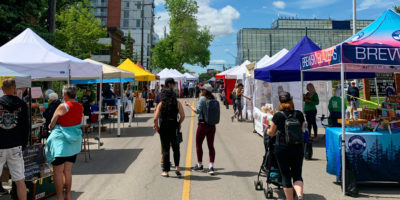 124 Street Grand Market
A twist on the traditional market
With a twist on traditional, the 124 Street Grand Market is back and bigger than ever! The market combines everything Edmontonians love in the summer, from a pack of roving food trucks and live entertainment to talented artists and fresh, local foods. Open from May to October every year, the Grand Market makes weekends that much more delectable. Stock up, fill up or just soak it all in! This market is set in two different locations, two days per week:
Thursday - 108 Avenue & 124 Street
May 11 - October 5 from 4:00pm-8:00pm
*Entrance near 124 Street

Sunday - 102 Avenue & 124 Street
June 4 - October 1 from 11:00am-3:00pm
*Entrance near Robertson-Wesly Church

Additionally, you can enjoy the Public Night Market once a month from 5-11 pm. Spanning across three areas on High Street and Glenora Place, the event features a rotating lineup of new and familiar vendors. Local food trucks to indulge and familiar faces from the 124 Grand Market. The award-winning restaurants businesses of High Street will also be open late!