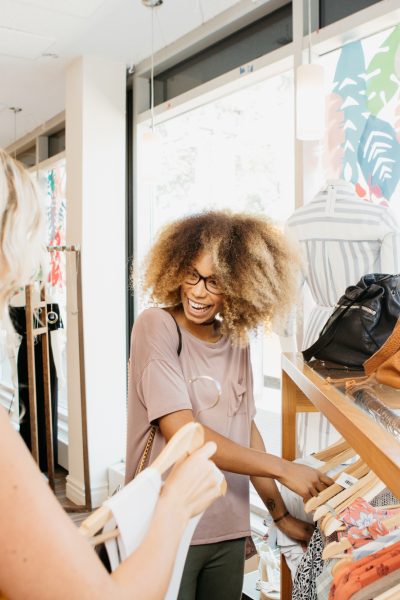 Best Independent Boutiques
Janis Galloway rounds up the best local boutiques to shop on any trip to Edmonton. Janis is a longtime supporter of the Edmonton fashion community and is a former style blogger, wardrobe stylist, and fashion writer for publications like Flare Magazine and the Edmonton Journal.

As you visit your favourite shops and boutiques, please be sure to continue practicing physical distancing, frequent hand washing, and following the guidelines put in place to keep everyone safe.

Bamboo Ballroom is my go-to boutique for edgy basics and summer party dresses, and it's also Alberta's most supportive retailer of local designers. Amongst its racks you'll find Edmonton-based labels such as Suka Clothing and Hunt Amor jewellery with big brands Pink Martini, Gentle Fawn and Wildfox. Friendly, trendy staff are always willing to help coordinate an outfit, or share their current store favourites.
This Whyte Ave legend is Edmonton's most beloved shoe store. It's been a famous high-end footwear staple since 1990 thanks to an unrivalled selection of unique designer brands. A pair of pointed toe T&F Slack loafers recently made their way into this fan's closet, and now I'm crushing on silver loafers from YMC and suede, cobalt blue pumps from Gravity Pope's own in-house line. You can also drop by their brand new clothing boutique only one block down from Gravity Pope Shoes.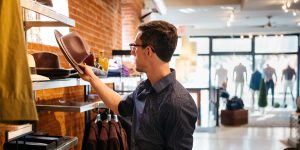 This upscale menswear boutique carries the absolute best in well-tailored and modern suits, ties, outerwear, shoes and accessories. Their focus is on high quality and classic styles. You can find the best made-to-measure suits in the city, along with expert styling advice and customer service from a respected and reputable staff.

The much-buzzed-about fashion startup, Poppy Barley, is a must-visit. They're revolutionizing the footwear industry, going where no company has gone before. They offer the old art of bespoke fashion through the click of a mouse, allowing you to design your own made-to-measure shoes for the perfect fit. For those who want to shop Poppy Barley's luxurious collections in-person and get measured, drop into their stunning showroom in South Edmonton.

Workhall is trendy and environmentally conscious. Their hand-made collection focuses on plant-based or blended fabrics and they also offer free tailoring services in an effort to reduce garment waste. Better yet, their clothes feel and look amazing. Check out their two locations downtown and on Whyte Avenue.
A well-tailored selection of classic womenswear, including brands J Brand and Greylin, make up the mix of feminine offerings at Shades of Grey. This family business is your hookup for must-have seasonal basics. From the perfect chambray button-up to the most flattering pair of printed trousers, your wardrobe well definitely get an upgrade.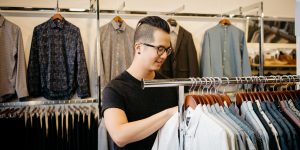 Jaisel has been a hip staple of Old Strathcona since 2004 and a must-shop for any laid back, but well-dressed man. They feature a great mix of streetwear and high-quality tailored pieces you can wear to any classy event. Mix that with their wide selection of raw denim and you've found yourself a new favourite.

Maven and Grace is here to bring your antique and knick-knack dreams to life. Specializing in curated vintage goods and local makers, this is one of the best places to find decorative treasures for your home that'll make even your most stylish friends jealous.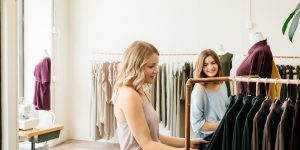 This underground boutique carries the best affordable, laid-back styles for all types, even including kids! Discover clothing, home goods, cards, jewellery, and more.
Sweet Jolie is a clothing boutique store that focuses on uplifting and instilling confidence in women all over the world! From trendy tops, to beautiful bottoms, to fabulous footwear, Sweet Jolie's inclusive sizes and cute clothing options help every woman feel their very best.