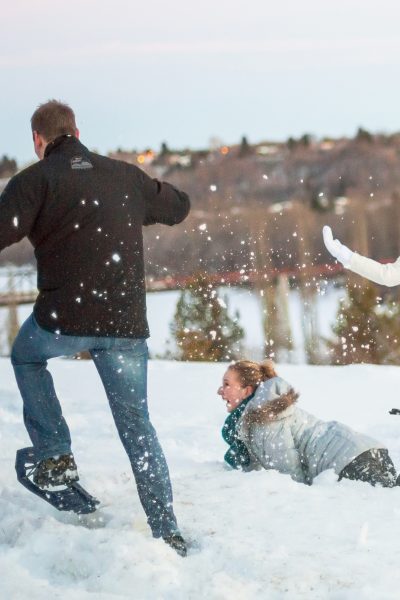 4 Trails to Try This Winter
Throw on a warm pair of boots, pick up a hot drink and embrace winter in all of its glory! It's time to discover some of the best parts of Edmonton on foot.
LENGTH: 2-3 KM (Aprx 30 mins)

Hawrelak Park is a great place to start when visiting Edmonton in winter. It's an easy choice if you're not a big hiker and is also perfect if you have young kids in tow. A simple walk around the rink offers a picturesque setting, and if you're looking for more you can always head to the forest trail on the west side of the park.
Feeling extra adventurous? Rent a pair of skates and try your hand at a triple-axel. Need another reason to visit the park in winter? You can drop in on a mammoth-sized, hand-crafted Ice Castle (usually opens near the end of December) or pop by Silver Skate Festival (Feb 8-18, 2019), a celebration of art, cultural, and sport.


Food and drink nearby: Small snacks and hot chocolate are available at the main building by the lake. During festival time there's even more goodies to be had!


LENGTH: 5.5 KM (Aprx 1-1.5 hrs.)

More than half of this loop has so much tree cover that you'll forget you're even in the city. The rest of the route has great views of the river and the downtown skyline. Some breathtaking photo ops can be had at the trailhead in Ezio Farone Park or on the Dudley B. Menzies footbridge. There are some brief inclines during this hike and portions can get a little icy, so make sure you wear good winter boots and bring a sense of adventure.

Food and drink nearby: District Cafe and The Common.


FUNICULAR TO WALTERDALE LOOP
LENGTH: 6 KM (Aprx 1-1.5 hrs.)

This hike is a great mix of city and nature. We recommend starting off at the Instagram-worthy 100 Street Funicular, which gives easy access by way of two elevators into the river valley trail system. Next, you'll cross the historic steel low-level bridge and dip back under the bridge to start off on the trail next to the river. Most of the south side path winds its way through beautiful tree covered trails, encountering two tiny neighbourhoods nestled off of Scona Road. The trail ends with a jaunt over the futuristic Walterdale Bridge and a walk through Rossdale, meandering past historic sites like the old brick power plant.


Food and drink nearby: Credo, Fairmont Hotel Macdonald, and Tres Carnales.


RIVERDALE TO CLOVERDALE LOOP
LENGTH: 8 KM (Aprx 2 hrs.)

Which way to head first on this hike depends on how hungry you are! The lovely Little Brick Cafe is situated in Riverdale and is a perfect excuse to head out for a winter walk. You'll either hit this cafe about 30 minutes in, heading east through Louise McKinney Park or 1.5 hours in after passing through two riverside parks and the ultra-blue Dawson Bridge. Be sure to take a moment at the overlook near McNally School, which offers an amazing view of the city skyline.

Food and drink nearby: Little Brick Cafe.