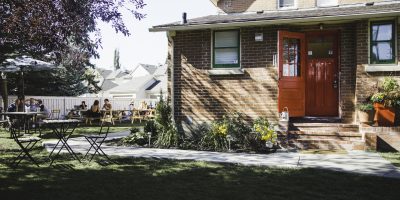 Little Brick Cafe and General Store
Good coffee, simple living, and the finest quality products.
Little Brick is a charming cafe in an old brick house built in 1903 in the heart of the river valley. It's the former family home of J.B. Little, the owner of the brickyard that used to call the area home and provided bricks to Edmonton's most historical buildings (a replica of J.B. Little's Brickyard is set up on 1920 street at Fort Edmonton Park). The house is now a cafe, general store and event space with offices upstairs.
Walk into the neighbourhood off the river valley trails and make yourself at home with a coffee and artisanal sandwich in hand (on freshly baked bread!). Browse the general store shelves stocked with locally made delights such as housewares, body products, high quality cooking/baking ingredients, greeting cards, and basic groceries like eggs and milk. It has such a welcoming feel! Whether you find a spot in the living room, dining room, or in the backyard, you'll feel like you're sitting in an old friend's home.