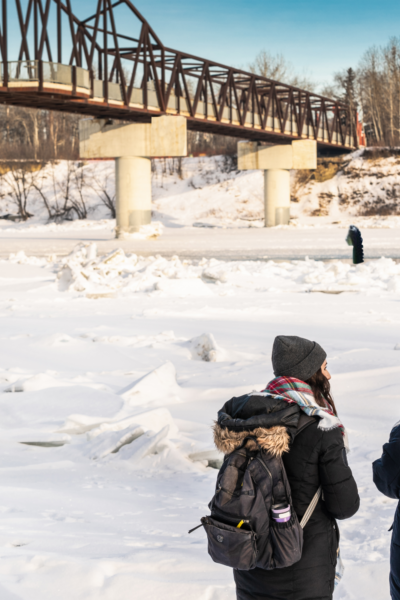 Unusual Activity in the North Saskatchewan
Over the last year, there have been reports of unusual sightings and activity in the North Saskatchewan River and this morning our organization received actual photographic evidence of what people have been whispering about for weeks! Please reach out to us directly with information if you have experienced any similar sightings.

In the meantime, check out this list of river valley trails where you may get lucky enough to spot this mysterious entity (just be sure to keep your distance and explore safely) and remember to use #ExploreEdmonton when sharing your snaps on social.

Mythical creature, or a really big log? You be the judge.

APRIL FOOLS! Unfortunately, there is no mysterious creature in the North Saskatchewan River (or at least one that comes with authentic photographic evidence)! With that, there is still plenty to explore in North America's largest stretch of urban parkland. Read on to start planning your outdoor river valley adventure!


No matter how you explore this spring, please continue practicing safe physical distancing, frequent handwashing and following the COVID 19 guidelines put in place to keep everyone safe.
4 River Valley Trails to Try this Spring
Taking time to connect with nature is a wonderful way to clear the mind and soothe the soul. Luckily, Edmonton's river valley boasts over 160km of trails just waiting to be explored. Not sure where to start? Let this guide be your gateway to Edmonton's vast boreal landscapes where a hiking, walking or running adventure is never far on the horizon.
LENGTH: 2-3 KM (Approx. 30 mins)

Hawrelak Park is a great place to start when dipping your toes into Edmonton's countless trails. It's an easy choice if you're not a big hiker and is also perfect if you have young kids in tow. A simple walk around the lake offers a picturesque setting, and if you're looking for more, you can always head to the forest trail on the west side of the park.

Food and drink nearby: Culina by the Lake offers burgers, gelato and craft beer in the main building by the lake.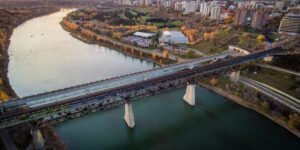 LENGTH: 5.5 KM (Approx. 1-1.5 hrs.)

More than half of this loop has so much tree cover that you'll forget you're even in the city. The rest of the route has great views of the river and the downtown skyline. Some breathtaking photo ops can be had at the trailhead in Ezio Farone Park or on the Dudley B. Menzies footbridge. There are some brief inclines during this hike, but nothing your killer calves can't handle.

Food and drink nearby: District Cafe and The Common.
FUNICULAR TO WALTERDALE LOOP
LENGTH: 6 KM (Approx. 1-1.5 hrs.)

This hike is a great mix of city and nature. We recommend starting off at the Instagram-worthy 100 Street Funicular, which gives easy access by way of two elevators into the river valley trail system. Next, you'll cross the historic steel low-level bridge and dip back under the bridge to start off on the trail next to the river. Most of the south side path winds its way through beautiful tree covered trails, encountering two tiny neighbourhoods nestled off of Scona Road. The trail ends with a jaunt over the futuristic Walterdale Bridge and a walk through Rossdale, meandering past historic sites like the old brick power plant.


Food and drink nearby: Credo and Tres Carnales.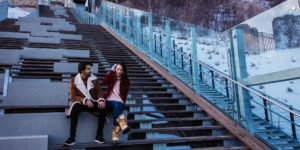 RIVERDALE TO CLOVERDALE LOOP
LENGTH: 8 KM (Approx. 2 hrs.)

Which way to head first on this hike depends on how hungry you are! The lovely Little Brick Cafe is situated in Riverdale and is a perfect excuse to head out for a walk. You'll either hit this cafe about 30 minutes in, heading east through Louise McKinney Park or 1.5 hours in after passing through two riverside parks and the ultra-blue Dawson Bridge. Be sure to take a moment at the overlook near McNally School, which offers an amazing view of the city skyline.
Note: Due to LRT construction, you will have to use a detour to complete this trail. To avoid construction, take Grierson Hill out of Louise McKinney Park, and then head back down Cameron Avenue to rejoin the trail at Riverdale Park.

Food and drink nearby: Little Brick Cafe.