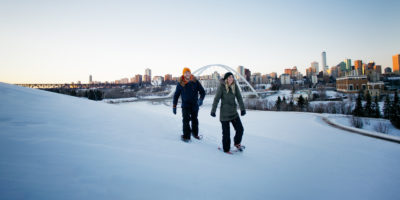 Outdoor Adventures
Let your footprints tell the story in Edmonton, Canada.
Picture yourself crossing a snowy trail as the knock-knock-knock of a woodpecker echoes from the forest beyond. If it's daytime, you might get lucky and spot a snowy owl tucked between some nearby branches, and at night, there's the prospect of spotting the pulsing chorus of lights known as aurora borealis. It's the kind of singular experience that you'll carry with you for years to come. Crisp air. Open landscapes. Big adventure. One thing is for sure - you'll never leave the same tracks twice.

With a strong U.S. dollar, now is the best time to travel north and experience the great outdoors in Edmonton, Canada.
Discovering vast and boundless vistas in Edmonton is easier than ever when you touch down at the Edmonton International Airport. Does staying in a 100-year-old castle tickle your fancy? How about a modern boutique inn, or jazz-age hotel within a living history museum? Edmonton's got that and everything in between. Find the perfect place to lay your head after a long day of exploring with Edmonton's Best Hotels.

Discover Elk Island National Park
Elk Island National Park is the cornerstone of Canada's bison conservation story; without this park, herds of plains and woods bison would not thrive in Canada today. This is a place of aspen woodlands and prairie meadows, of giant elk and howling coyotes; of rolling landscapes and frozen lakes. Come out for a day trip filled with cross-country skiing, snowshoeing, hiking or wildlife viewing. As a dark sky preserve, Elk Island National Park is the perfect place to gaze up at the night sky and wonder at galaxies far, far away. You may even get lucky and get a glimpse of the northern lights!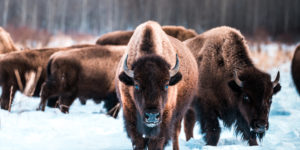 The River Valley is Calling
After the arrival of the first snowfall, the river valley becomes a true winter wonderland. Cross-country ski or snowshoe through a snowy paradise. Become your own tour guide with The Commonwealth Walkway App, a free guide to exploring this urban parkland while reading and listening to one of five storylines (Indigenous, History, Family, River & Winter). All you need is a smartphone and a thirst for adventure! At 7,400 hectares and 22 times the size of New York City's Central Park, you could spend the entire season exploring Edmonton's glorious river valley.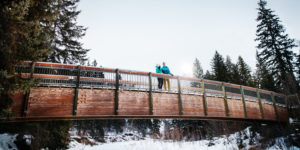 Dust Off your Skis (or Snowboard)
There are few joys in life more equally exhilarating and peaceful than gliding down a sparkling slope of fresh snow! Hit the slopes at the Rabbit Hill Snow Resort, the largest ski and snowboard resort in the greater Edmonton area, located on the south bank of the North Saskatchewan River. If you've never been on a pair of skis or a snowboard, the Snow Valley Ski Club is a great place to gain confidence over 20 acres of skiable terrain. Located in the river valley, directly across from downtown Edmonton, the Edmonton Ski Club is a true urban snow sports learning centre. You have to ski it to believe it!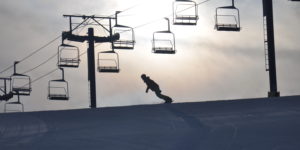 Big Adventures Need Big Shoes
This best shoe is a snowshoe! Strap on a pair, and you're off on an exhilarating day trip through Elk Island National Park where the bison roam. Rather stay a little closer to home? Explore your own backyard with Haskin Canoe and their snowshoe tours within the city (beginning in January). Book a private tour and conquer Hawrelak Park or the expansive collection of trails found within the North Saskatchewan River Valley. Finish off your adventures with a hot chocolate on the beautiful winter patio at Little Brick Café and General Store and you're in business!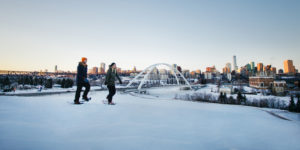 If one of your favourite sounds isn't of a skate gliding across the ice, then you're living your whole life wrong. Breathe in the crisp air as you drift across a glassy-smooth sheet and watch the snow spray as you skid to a stop. Hawrelak Park (9330 Groat Road), the Victoria Park Oval (12130 River Valley Road), and Rundle Park (113 Avenue and 29 Street), are just a few of the city's outdoor skating rinks (or ODR's as we like to call them). Stay tuned for reopening dates as ice conditions become skate-able and remember to observe current safety guidelines around physical distancing.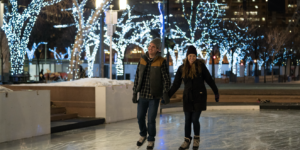 Add a little colour to your walk
Edmonton's street art game has exploded in the last few years, thanks to the visionary team at Rust Magic. Check out their virtual mural map, bundle up, and plan your own walking tour around the city. You'll discover incredible large-scale works by international and local artists, and get a little fresh are too! Visit the Rust Magic Instagram page for some visual inspiration, and be sure to pack a camera so you can capture the moment yourself!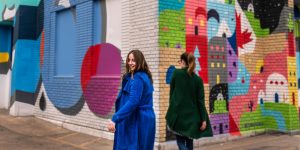 Snow Tubing at Sunridge is the perfect winter activity for the whole family! With a dedicated tubing lift (so you don't have to walk up the hill with your tube in tow), three groomed chutes, and special tubes, it's easy to get totally tubular this season. Feel the thrill of racing down the hill at top speed - it's the kind of adventure that only winter can bring!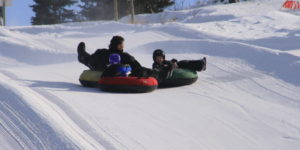 Embark Cross Country Ski Adventure