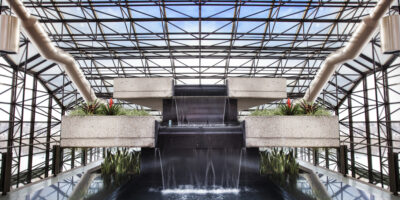 Convention Centres of Canada
Six Key Actions to Advance Regeneration through Events
Considering sustainability options for your next business event can be tricky and not the most tangible concept. How can we visualize the waste we produce or the carbon output we're trying to reduce? Then, there's also the idea of regeneration: above and beyond avoiding waste or carbon, how can you use your event as a mechanism to create more positive impact?

As Explore Edmonton works with more event planners to integrate sustainability initiatives into the operations and programming of events hosted here, we create more tangible stories to share and encourage regenerative business travel.
Convention Centres of Canada - 2022 Annual Conference
When approached by Convention Centres of Canada to not only host their Annual Conference in 2022, but also plan it, the Edmonton Convention Centre team saw an opportunity to partner with Explore Edmonton's dedicated Sustainability team to consider sustainability throughout the entire event. From waste to welcoming delegates, every aspect of creating a regenerative event was considered when partnering with Convention Centres of Canada.

This story about the Convention Centres of Canada Annual Conference is also a story about how to create an event sustainability plan. When working towards developing a sustainable business event, there are six key action areas to consider.
Action Area 1: Reduce/Reuse
When it comes to major events, waste is a common byproduct. However, this makes it an incredible area of opportunity for an event considering a sustainability plan. Waste reduction and diversion is a key part of our venues' operations, with clear waste management programs displayed via signage. Event planners can also complement a venue's efforts in following a Zero-Waste Hierarchy of Best-Use in decision making around material procurement and disposal.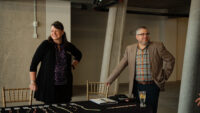 These were the key actions that Convention Centres of Canada took to reduce and reuse at their event:

Utilize the Terracycle® Zero Waste Box program; all residual event waste is sent for recycling at Terracycle® facilities.
Encourage delegates to bring their own reusable water bottles/coffee mugs.
Choose only reusable glassware.
Use digital signage and communication, where possible.
Purchased reusable beaded lanyards, hand made by a local Indigenous artisan. Instead of disposable lanyards, these can be taken and used many times, while also being an intentional choice to support local Indigenous entrepreneurs.
Action Area 2: Materials
The resources we use at our business events can have significant impacts on the environment. It's not just about what we use at the event but where those products come from and where they go after we are finished using them! If you endeavor to choose materials and event supplies that minimize these impacts through how they're produced or shipped, you're on your way to creating a more sustainable event. Even better, try to avoid the production of new materials and prioritize rental and reuse wherever possible.

Here are the key actions CCC took to consider materials in their event sustainability plan:
Minimal materials printed by the venue on site.
Minimal printing in general; use local print company to avoid shipping.
No delegate gifts or swag bags.
Use rental décor instead of producing décor.
Ensure all décor/AV is sourced locally to avoid shipping.
Action Area 3: Venues
We know that venue selection is a huge part of event planning. Venue certifications like Green Key and Climate Smart are good indicators that a potential host venue keeps sustainability top of mind, right down to their own ongoing operations. As a host venue is typically not the only venue your delegates will frequent throughout a business event, also consider the sustainability of your chosen hotels and any offsite venues you select for special events.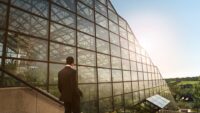 For Convention Centres of Canada, here are the key actions taken within the venues category:
Select the Edmonton Convention Centre (ECC) as the host venue. ECC has Green Key level five status, is Climate Smart certified, and has a rooftop solar installation that generates clean, renewable energy.
Select host hotels within walking distance of the host venue.
Select an offsite venue also within walking distance of the host venue and hotels; in this case, the offsite venue was also LEED Certified.
Action Area 4: Food & Beverage
Food, menu selection, and waste play a vital role when it comes to making environmentally conscious choices for the environment. While the Chef and staff at the host venue take the lead on food procurement and food waste management, event planners can work with destinations to understand more about existing programs in place or added value programs they can participate in to ensure food and beverage choices are as sustainable as possible. Food and beverage at a business event can already be a major wow moment for your delegates – further the awe by weaving storytelling about the food's sustainability into your programming.
Actions CCC and Explore Edmonton took for their event in 2022 included:
Donate excess food and product to the Edmonton Food Bank's Second Helping Program to benefit community members experiencing food insecurity.
Compost all food waste.
Use local suppliers and food vendors, where possible.
Choose a seasonal, locally sourced, and plant-based menu for one conference lunch – Executive Chef Serge Belair spreads awareness by speaking to delegates before the lunch.
Action Area 5: Teamwork
Event planning is a lot of work and, on top of it all, considering a sustainability plan can feel daunting – but you are not alone. In addition to the support of Explore Edmonton, you can encourage your attendees and suppliers to contribute to the sustainability of the event through their own actions.
Here are some to consider that were used by Convention Centres of Canada:
Include sustainable messaging in event promotions and pre-event emails.
Remind delegates of their impact during mainstage programming.
Provide clear information on the event's Zero Waste commitment.
Educate all organizers about sustainability goals for the conference.
Incorporate sustainability-focused content in the conference programming.
Share post event achievements and/or set year-over-year targets for improvement.
Action Area 6: Carbon Impact
A huge opportunity area for events is to take responsibility for our carbon emissions – first, minimizing any avoidable emissions and, second, by purchasing high standard carbon offsets to mitigate emissions that can't be eliminated. Together with Ostrom Climate, Explore Edmonton can work with our event partners to measure and present an estimate of emissions before an event. The calculation typically includes emissions from utilities, catering, shipping, paper use, travel, and hotel stays, as well as third-party server electricity consumption.
Explore Edmonton undertook the following actions in this category together with Convention Centres of Canada:
Collected necessary information to accurately calculate carbon emissions associated with attendee travel and accommodation, energy usage at the event venue, and waste produced at the event
Purchased quality carbon offsets from reputable offset provider to offset above calculated emissions
Partnered with Wild + Pine and will be restoring an area the same size as the event room as part of an effort to re-establish biodiversity and create natural habitats in Alberta

Based on the event data, a total of 60.9 tonnes of carbon dioxide equivalent (tCO2e) were produced by the Convention Centres of Canada 2022 Annual Conference. To mitigate climate impacts, Explore Edmonton purchased 61 tonnes of carbon offsets from Ostrom Climate's Climate Action Portfolio – because Explore Edmonton has purchased an equal number of tonnes that were emitted for the Conference Centres of Canada, the event was carbon neutral.
MAKE YOUR NEXT EVENT SUSTAINABLE
No matter the season, industry, or venue, events bring value to their host communities. While the above may still feel daunting, Explore Edmonton is here to help event planners consider sustainability in their next event hosted at the Edmonton Convention Centre or Edmonton EXPO Centre.

To make planning a regenerative event easier for event planners, Explore Edmonton has also created the Responsible Events Program. Regardless of your budget, our team is ready to help your event take part in socially, economically, and environmentally responsible choices that not only align with your values, but also help give back to our community. Events in Edmonton take less energy – including yours. Our team is here to vastly support the workload of incorporating sustainable elements, so your time can stay focused on the rest of your event priorities.

If you're interested in hosting an event in Edmonton and collaborating with us on an Event Sustainability Plan or participating in the Responsible Events Program, please contact our Business Events team to get started!