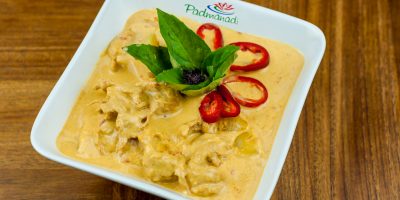 When you first set your eyes on the magnificent 2000lbs Buddha taking centre stage surrounded by lush tropical plants and fresh cut flowers, you know you are in a very special place.

The team of expert chefs at Padmanadi create a bewildering array of vegetarian and vegan dishes - a mix of east and west that owes its origins to both humble and grand cuisine from such places as Indonesia, Vietnam and China. There are some homegrown influences on the weekend brunch menus with their "eggs" Benedict and "ham and cheese omelette." This local watering hole is a favourite among vegans, vegetarians and omnivores alike. Even the biggest meat-eaters can't believe that what they're tasting doesn't have meat in it - it's just that good!

The owner, Kasim, alongside his family and team of dedicated staff are always on hand to make your experience memorable. Their guests frequently comment on the warmth and gracious hospitality of everyone involved in making this restaurant such a resounding success. Kasim's aim has always been to offer a wholesome vegetarian alternative to the standard North American diet.
Stop by or order your meal to-go for a mouthwatering meal in the comfort of your home!