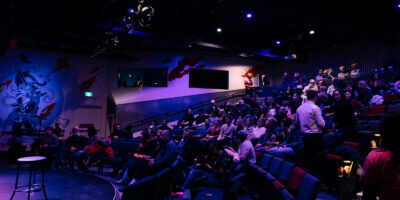 FLOP!
An improvised musical fiasco.
May 18 – May 28, 2023
Time

Street Address

Rapid Fire Exchange - 10437 83 Ave, Edmonton, Alberta
It's a flop! The playwright quit, there's no sheet music, the choreographer was canceled and the director went into rehab. It's a disaster only an audience can save. Acclaimed and desperate Improvisers Ashley and Ron scramble to create a miraculous new musical based on your suggestions. The stakes have never been higher as two world-class, award-winning performers risk their reputations and fragile egos in the name of showmanship, hilarity, and the magic of musical theatre. Don't miss this insane and hilarious choose-your-own-adventure musical, as FLOP! makes its world premiere.