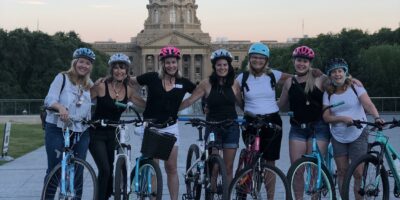 Chef Table Living provides easy, active, healthy lifestyle alternatives that you and your loved ones can all enjoy together - either with a fresh and delicious home cooked meal, some refreshing beverages or even a guided walking tour around the city enjoying the sites.

Let Chef Table Living do the work to help you create fun and unforgettable adventures for your family or date night, with one of their various exciting new products all while supporting local businesses and giving back to your own community. Check out their Chef Kit or Cocktail Kits, Food Bike Tour, Food Walk Tour, live Zoom events and guided or non-guided tours stopping in various locations around Edmonton.


Chef's Kit & Cocktail Kits
Chef Table Living is now offering a new way to experience and support local restaurants by offering Local Chef's Kit Boxes and Local Chef Cocktail Kit Boxes. ​Throw on an apron, grab a glass of wine and let local chefs teach you the skills that can help you create mouth-watering gourmet meals from the comfort of your home. Included in the kit is a 30-minute online video from the featured local Chef taking through how to make their inspired dish.