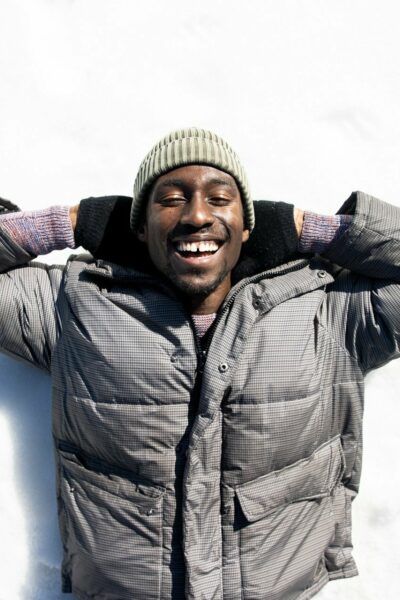 Things to Do in Winter in Edmonton
Winter in Edmonton is chilly, but it most certainly isn't boring. We're talking thrilling attractions, frosty festivals, outdoor adventures, and more! Step into a winter wonderland of outdoor patios, deep freezer races, and our spectacular view of the Northern Lights when visiting Canada's northernmost metropolis.

Holiday Celebrations
Celebrate the season with some of the city's most joyful holiday events! For more festive offerings, check out our event calendar.
All is Bright takes over 124 Street with outdoor concerts, fire pits, roving performers and more. This is a scorcher of a street party in one of Edmonton's coolest neighbourhoods. (November 18)
Edmonton Christmas Market hosts over 50 local vendors, holiday activities, and amazing food and drinks at this festive event. (November 29 - December 17)
Glow features towering light gardens, glowing activities, an artisan market, delicious food, and more at the Edmonton EXPO Centre! (December 1 - January 1)
Zoominescence lights up the Edmonton Valley Zoo and brightens up the night with adorable creatures around every corner. (Select dates between December 1 - January 3)
Canadian Tire Magic of Lights is an enchanted drive-through experience of vibrant LED lights and a jolly radio station you can tune into from your car. (November 23 - January 6)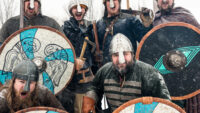 A Byzantine Winter Fête
Embrace our Northern climate and celebrate Ukrainian, Indigenous, and French-Canadian cultures at Deep Freeze: A Byzantine Winter Festival. Experience winter panache, food, art, culture and fun—including races in actual deep freezers! Take an amazing stroll down Alberta Avenue district and be enchanted by magnificent ice sculptures, song, dance, and tasty delights.

January 20-21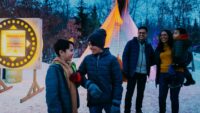 The Legend of the Flying Canoe
Flying Canoë Volant is a creative, interactive, cultural event where you can celebrate local history and everything that is great about a long winter's night. Inspired by the legend of The Flying Canoe and French Canadian, First Nations and Métis traditions, this event celebrates Edmonton's beautiful Mill Creek Ravine and the newly established French Quarter. Channel your inner voyageur with light, music, legends and dance!
January 31 - February 3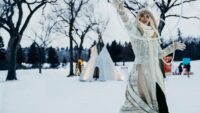 Silver Skate
Celebrating over 30 years, the Silver Skate Festival is an extravaganza of arts, culture, recreation, sport and culinary delights! Some call it a winter wonderland, others call it a "true Canadian experience," and you'll likely have your own name for it after partaking in this snowy 10-day festival. Feel the breeze on your face as you glide along the city's largest skating pond while listening to a tuneful compilation of Edmonton-based music.
February 9-19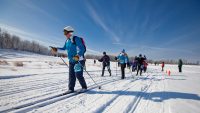 Take On the Birkie
A classic Nordic adventure, Edmonton style! Strap on your skis and whip around the loppet when you take on the Canadian Birkebeiner: Canada's premier classic-style cross country ski festival! This "Birkie" is one of only three Birkebeiner Loppets in the world, with Norway and the USA hosting the other two. Get outdoors, get active and embrace winter at this one-of-a-kind event!
February 9-24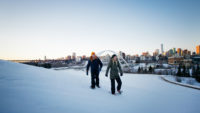 The River Valley
This local attraction never closes! Embark on an adventure through the winding trails of the North Saskatchewan River Valley. Bundle-up and wear a good pair of winter boots, then head off on a serene walk through a natural oasis in the middle of the city. Feel like heading off the beaten path? Haskin Canoe offers snowshoe tours right inside the city!
In Edmonton, the sunny days stretch into the winter and so does our Segway season. Explore North America's longest continuous trail systems with River Valley Adventure Co.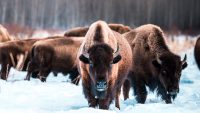 Elk Island National Park
Big adventures need big shoes! Snowshoe and Stargaze along the shore of Astotin Lake while stars twinkle overhead, with a park interpreter and Orion as your guide. Gaze up at the twinkling stars and learn to navigate the night sky of the Beaver Hills Dark Sky Preserve. There's no better time to bundle up and watch for the northern lights dancing across the sky! Elk Island's RV and tenting sites stay open year long, so bundle up and grab the gear for an unique winter experience that will have you experiencing the park in a whole new way.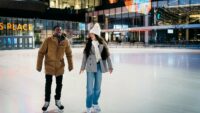 Lace Up Your Skates
Breathe in the crisp air as you drift across a glassy-smooth sheet and watch the snow spray as you skid to a stop. Hawrelak Park (9330 Groat Road), the Victoria Park Oval (12130 River Valley Road), and Rundle Park (113 Avenue and 29 Street) are just a few of the city's outdoor skating rinks (Or ODR's as we like to call them). Whether you're practicing your triple axel, or just trying to stay vertical on the ice, the skating options are endless in Edmonton!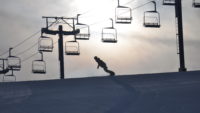 Ski Ya Later!
Feel your energy soar as you take on a Snow Valley Ski Club run. If you're eager to learn, Snow Valley Ski Club is a great place to gain confidence with over 20 acres of skiable terrain.
Located in the river valley, directly across from downtown Edmonton, the Edmonton Ski Club is a true urban snow sports learning centre. The Edmonton Ski Club boasts 25 skiable acres of machine-made pristine groomed snow.
Rabbit Hill is the largest ski resort in the Greater Edmonton Area. Located 15 minutes southwest of Edmonton, it is a great escape for the day or even an evening of night skiing.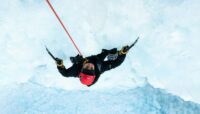 Ice, Ice, Baby
Each winter, the ACC Edmonton Ice Wall emerges in all its glory, standing as a masterpiece in the heart of the river valley. It beckons adventurers to experience the exhilaration of conquering its vertical challenges and dynamic ice formations. With every climb, the ice wall offers a unique opportunity to push boundaries, improve skills, and forge unforgettable memories.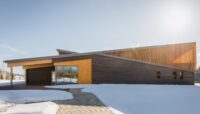 Discover Métis Crossing
Métis Crossing is the first major Métis cultural interpretive centre in Alberta, sitting on 512-acres of land designed to engage and excite visitors. Take a day-trip to Métis Crossing and discover how the Métis lived as trappers. Strap on a set of snowshoes, set a snare, build a survival shelter, and learn a traditional art as you create your own unique and beautiful keepsake.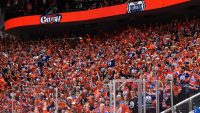 Oilers Nation
Cheer on Connor McDavid and our boys in blue and orange as they battle it out at Rogers Place in Edmonton's ICE District! Join the crowd in orange and blue at an Oilers game, or cheer on the future stars of the NHL at an Edmonton Oil Kings game. Pre-game as close to the action as possible at Canadian Icehouse or Banquet beforehand, with Rogers Place sitting just a few steps away!