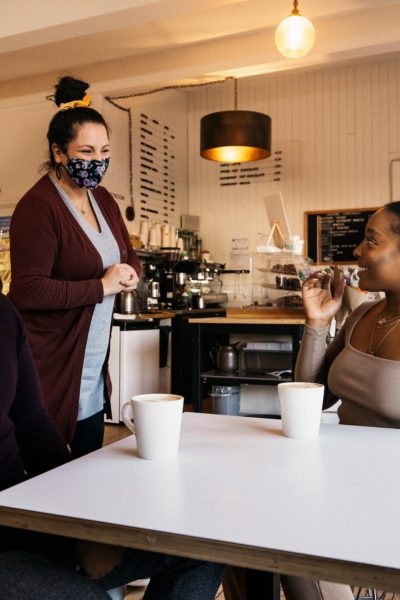 Things to Do in April in Edmonton
Ah yes, April... the time of the year where summer begins to tease you with bright blue skies and warm sunshine, but you'll also feel the occasional crisp breeze that leaves you wondering if there is one more glorious snow day left before the flowers bloom. Either way, one thing we know for sure is that there are plenty of incredible things to check-out around Edmonton this month!

No matter how you explore, be sure to continue practicing safe physical distancing, frequent handwashing and following the guidelines put in place to keep everyone safe.
Hop Along the Bunny Trail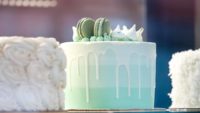 Easter is the one time of year that rabbits all over the world trade in their carrots for tasty treats. Do as the bunnies do and satisfy your sweet tooth at one of the best bakeries in Edmonton. We're talking cookies, cakes, tarts, pies and more. There really is something for every bunny.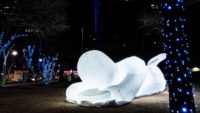 Look up, wayyyy up! Giant inflatable humanoids are invading downtown Edmonton - and that's just the beginning! The city's core is defrosting to reveal inspiring cultural exhibits, extended outdoor patios, al fresco performances, glowing art installations and so much more. Downtown Spark invites you to discover activations like Fantastic Planet, wâpos, Winter Birds, Arts District Animation, A Taste of Al Fresco, and Root 107. Illuminate your curiosity with physically distant experiences that everyone can enjoy safely!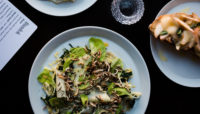 Pair your night out at Downtown Spark with take-out from one of downtown Edmonton's incredible restaurants. The Explore Edmonton Downtown Dining Pass is a mobile savings passport loaded with discounts to inventive eateries, local taprooms, farm-to-table experiences and more in the heart of the city. Did we mention, the pass is completely free? Local restaurants need our support more than ever, and our appetites are happy to step up to the plate!
Wine & Dine in the River Valley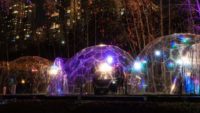 Discover a private culinary experience in the heart of the North Saskatchewan River Valley at Geoscapes! Enjoy a luxurious evening of delicious dining inside an intimate geodome. You'll savour creations by some of Edmonton's top chefs, complete with a breathtaking natural backdrop that can't be beat. You can also enter to win a brand new coat of your choice from Nobis when you donate a gently-used winter coat in support of the Nobis Global Initiative - No Cold Shoulder!
March 4-April 11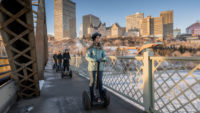 Join the gang at River Valley Adventure Co. and see the city like never before while cruising on a Segway. Don't worry, you'll get a quick lesson first, then you'll ride in style as your guide shares some of Edmonton's natural history and wonders along the way. River Valley Adventure Co. also rents mountain bikes for those who wish to embark on a self-guided expedition through the trails that make up the vast and beautiful river valley system.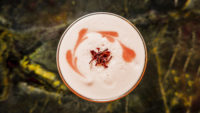 Bottoms up! Above Average Drinks is teaming up with Biera, Color de Vino, and local bartender, James Grant (of Woodwork, Little Hong Kong & Pablo) to bring you a cocktail tasting kit and live event that you can experience from the comfort of your own kitchen. Channel your inner mixologist during Virtual Last Call where you will learn how to create three delicious bespoke cocktails. Kits can be purchased here - just add them to your upcoming Biera Box purchase to have them delivered straight to your door!
April 9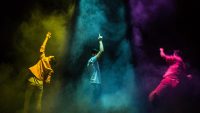 Chinook Series is blowing into Edmonton! Warm-up with a collaboratively curated performance experience which brings artists and communities together to share and celebrate through live art. Now five years strong, Chinook Series strives to thoughtfully curate collisions between artists and audiences to deliver 11 days of stirring contemporary art. This year, take in virtual performances for a home-theatre experience you won't soon forget!
March 25-April 4
Join the Quest for the Golden Key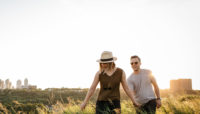 Take yourself on a self-guided tour with the interactive Commonwealth Walkway App! Using the downloadable app, you can explore the river valley through one of five storylines. As you solve clues throughout the walkway, you'll get closer and closer to uncovering the secret location of the mysterious virtual Golden Key. Learn little-known facts about Edmonton and it's vibrant story while satisfying your thirst for adventure. What are you waiting for?

Outdoor Experiences at the Zoo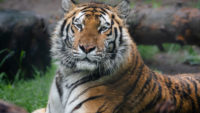 Calling all animal lovers! The Edmonton Valley Zoo is reopening for outdoor experiences - now that's something to roar about. Come say hello to the many creatures that call the zoo's al fresco spaces home. Advanced booking is required as this iconic attraction is operating at a limited capacity. Don't worry, washrooms will be open and you'll find a selection of food & drink items available onsite too! What a hoot!