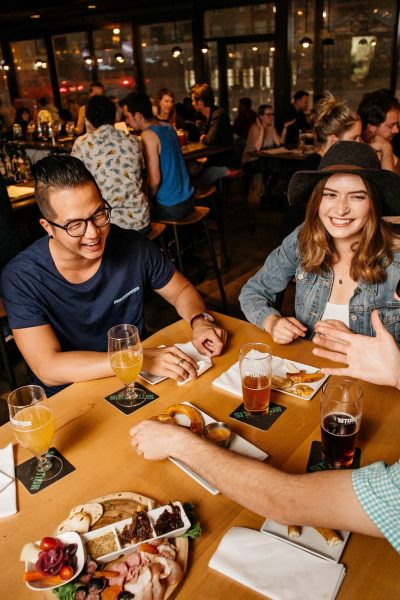 Best Craft Beer in Edmonton
Edmonton's craft beer scene has exploded over the past few years. From Bent Stick and Sea Change to Alley Kat and Blind Enthusiasm, there's so many to try! Not sure where to start on your self-guided Edmonton brewery tour? We've got you covered with our short guide to the city's hopping beer scene.

Scroll down to discover Edmonton's incredible thirst-quenching options!
Get Your Explore Edmonton Brewery Pass
Get to know our city's brews one pint at a time with the Explore Edmonton Brewery Pass. Claim unique discounts at each brew house with this digital savings pass – did we mention it's completely free? Get yours now!
Alley Kat Brewing Company
Alley Kat Brewing Company, founded in 1995 by Neil Herbst and his wife Lavonne, is the 4th oldest brewery in Alberta. As a self-proclaimed beer enthusiast, Herbst began as a home-brewer while in college, and turned his hobby into one of the strongest micro-breweries in the province. Located on Edmonton's southside, Alley Kat focuses on creating high-quality, freshly brewed beer using local products.
Come for: Their Dragon Series of Double IPA's.
Stay for: the wide variety of unique and smooth-drinking brews.
This neighbourhood brewpub, located in the ultra-modern Ritchie Market, co-habits with the popular restaurant Biera. Owner, Greg Zeschuk, who you may recognize as the former owner of video-game developer Bioware, prides Blind Enthusiasm on its exploration of flavours and quality of taste. Serving dry-European-inspired brews and traditionally craft beer offerings from pilsners and bitters to stouts and IPAs, this award-winning brewery is a must-try!
Come for: The beer tasting flight.
Stay for: Biera's stellar summer-time patio and delicious bites.
Proudly brewing a rotational line-up of beers 400 litres at a time, Bent Stick nanobrewery brings high quality, unfiltered real ales to north Edmonton. Scott Kendall, Kurtis Jensen, Patrick Gaudet and Ben Rix focus on crafting beers that are smooth and easy to enjoy pint after pint. There is a sense of wizardry that comes with their entirely hand-crafted brewing process; a blend of art, science and skill.
Come for: B.S. Wit, a spiced Belgian-style wheat ale.
Stay for: The friendly, down-to-earth staff.
What do a couple of chemists, and their beer-drinking friends do for fun? Make beer of course! That's how it all started for Jared Curle, John Toman, and Brett Loree, who, in 2017 went from homebrewers to brewery owners at Odd Company Brewing. Located in the trendy Oliver Exchange Building, Odd Company has combined their mad scientist skills with the fine art of brewing to create high quality, small-batch beers. Beer drinkers will find approximately 12 beers available at a time, meaning there's something new with every visit.
Come for: 250 ml, 500 ml and growlers that allow the option to try all flavours.
Stay for: The trendy 106-year-old building.
Sea Change Brewing Co. is named after founder Ian McIntosh's family boat. It means "a profound transformation" which is exactly what the brewery aims to do in Alberta's brewing community. They recently collaborated with Fruit Loop (a non-profit that supports the LGBTQ+ community) to create the Prairie Fairy beer where 10% of all gross sales go to LGBTQ+ initiatives. No snobbery here, just great beer and good company.

Come for: 5 core beers: Session Ale, The Wolf (New England Pale Ale, 2019 gold medal winner at the Alberta Beer Awards), Prairie Fairy (Blackberry Raspberry Wheat Ale), Irish Red Ale and the Blonde Ale.
Stay for: The chance to admire the use of local elements used throughout the space like tabletops made with wood from the old Cloverdale bridge, and posters of past Edmonton bands and music venues.
Endeavour Brewing is a family and community orientated craft brewery in St. Albert. Their love for great quality beer drove the team to develop and brew their favourite pints. Consistent quality and the freshest ingredients are paramount. The folks at Endeavour Brewing are inspired by their other passions in life including the outdoors, sports and those who are taking risks and making great things happen!
Come for: The laid back atmosphere.
Stay for: brews like the Tumbling Goat Belgian Pale ALe and the Lost Flip Flop Saison.
In what was once an old bookstore located just half a block south of Edmonton's bohemian-spirited Whyte Avenue, you'll find Situation Brewing, the area's first fully functioning microbrewery. Given Whyte Avenue's vibrant nightlife scene, owner, Wayne Sheridan, felt there was no better place to "situate" a brewery than where people were already drinking. He and his team have stuck behind the mandate that "beer is not supposed to be snobby"; Instead they've created a space where people can come to learn about beer, the brewing process and Edmonton's craft beer community. Through a dedication to crafting a rotating lineup of big flavours in small batches, this cozy pub-style brewery is the place where great brews and good company come together.
Come for: The family-friendly atmosphere, kids are always welcome.
Stay for: The full brewery experience, and great beer.

You'll find big flavours in small batches at Town Square Brewing Co.'s cozy and laid back tap house. With community at its core, Town Square is a centre for gatherings—Whether it's a family outing or a night out with friends, all are welcome with open arms. Guests can indulge in bites that incorporate spent brewery grains into as many dishes as possible, and brews that push the boundaries with twists on traditional tastes.
In just under two years, Town Square has gone from a five-gallon pot at home, to brewing 1500 litres and winning two Alberta brewing awards.
Come for: 11 rotating beers on tap, and 2 guest brews.
Stay for: The warm and inviting atmosphere.
The Growlery is one of Edmonton's newer breweries, located along Airport Road, in the Kingsway area. They produce locally crafted beer using a 12hL Brewhouse, four 24hL Fermenters and two 24hL Brite Tanks. The Growlery strives to create quality brews while reducing their ecological footprint, living sustainably and providing a better future for all!
Come for: their featured drafts like the Wheels Up! Saison.
Stay for: the cold brew coffee and tea.
S.Y.C. Brewing has a wide selection of inventive beer - from their Pineapple Dry Hopped Sour to their Clock Out Lager. This brewery aspires to create a unique profile in every beer they make. They don't like to cut corners on quality, character or style and they keep people at the centre of their recipes, design, and experience.
Come for: their wide selection of brews like the Lunar Phase Farmhouse Pale Ale.
Stay for: their 'Beermonton' merch.
The fourth brewery in the Bearhill Brewing family, Campio Brewing Co. was established in 2018 and rounds out the 'Albeerta' story in Edmonton. With a beer program that ranges from the working man's thirst quenching brews to a sour program that pushes the palate, Campio has something for everyone. They too have a killer patio and an incredible menu - here you'll find some of the best pizza in the whole city!
Come for: their 'yeast forward', 'malt forward' and 'hop forward' brews.
Stay for: the deep dish pizza.
Omen Brewing specializes in darker styles of beer, but they also offer brews for those who are a little afraid of the dark (don't worry, your secret is safe with us). Omen is a family owned and operated business in Edmonton's East central Brewery district. Off-sale brewskies are available for pick-up, and you can also order delivery with Skip the Dishes.
Come for: the taproom patio.
Stay for: Dark brews like the Spilt Milk Nitro Milk Stout.

Big flavour with a retro-gamer flair, this "geek chic" brewery will level up your beer drinking game. Analog Brewing's founders are beer lovers and nerds who love sci fi, vintage video games and board games, and injected their passion into the brewery.
Come for: Easy-drinking delicious beers.
Stay for: Over 900 classic arcade games.

At Arcadia Brewing Co. you'll find people united by a passion for very crushable beer, laughter, and kindness. Their goal? To remind you that there were no good old days, these are the good old days. Located in Edmonton's Manchester Square, this brewery promises tasty, local craft beers that will have even non-beer drinkers ordering another. When you come through the doors, you can expect to feel like you're at a block party or BBQ surrounded by old friends. In the summer, they set up a beautiful patio next to the fountain in the middle of the square - the perfect place to spend the afternoon.
Come for: the easy drinking brews like The Colliseum and the Whistling Pig.
Stay for: the photo ops inside the brewery and along Manchester Square.