Welcome to Edmonton, Alberta. We throw axes for fun, barbecue in blizzards, run with dinosaurs and camp with bison. Edmontonians have never been afraid to do things a little differently! We've got a 24 hour itinerary to help you map out your route through the best of the city this winter with history, culture, shopping, outdoor adventure, great eats and more!


Click the button below for a printable version of this itinerary.
Breakfast at Little Brick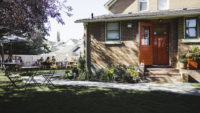 Little Brick is a charming café in an old brick house built in 1903 in the heart of the river valley. Here you can enjoy a fresh cup of coffee and one of the best eggs benedicts in town. Whether you find a spot in the living room, dining room, or in the backyard, you'll feel like you're sitting in an old friend's home.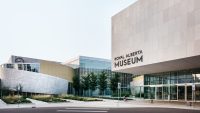 Now that your belly is full, it's time to explore the Royal Alberta Museum. The museum is Western Canada's largest, bringing you more than 82,000 square feet of history! Don't miss the artfully curated gift shop – you can purchase some of the greatest finds this city can offer, from local artists, restaurants, and artisans.
Grab a famous sandwich to go at Farrow Sandwiches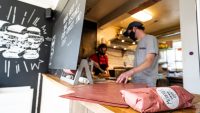 Farrow Sandwiches focuses on using local ingredients and bringing in some of the best coffee from independent roasters from all over the world. They've created a menu that is always changing and evolving. This is a shop that has taken on its own personality; A little 3 seater that likes its music loud and its food fun.
Shop 'til you drop at West Edmonton Mall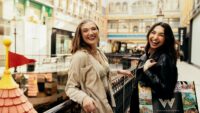 Welcome to the Mt. Everest of shopping and indoor entertainment in North America! Feed your inner adrenaline junkie with the go-karts at DRIVE, embrace your inner child at Galaxyland, or catch some waves in the World Waterpark. Spanning the equivalent of 48 city blocks, West Edmonton Mall is part entertainment complex, part shopping and dining destination.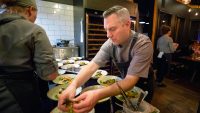 If fresh is what you're looking for, RGE RD is certainly where you'll find it. Driven by a passion for Alberta's abundance of quality produce, Chef Blair Lebsack's philosophies around using local, healthy and ethical food was the foundation of his dream to build an urban gathering place where the farm dictates the menu.
Legislature Lights Segway Tour with River Valley Adventure Co.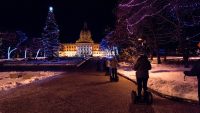 The Alberta Legislative Grounds originated as Fort Edmonton, a hot spot for the fur traders of the 1800's. Today it serves as the government centre for all of Alberta where provincial parliament members gather to discuss policies that affect all of Alberta. The grounds offer wonderful views and beautiful landscaping enjoyed by Edmontonians and visitors alike! The twinkling lights and charming skating rinks really emphasize Edmonton as THE Winter City. This tour by River Valley Adventure Co. is one you do not want to miss!