YEG Airport a global leader in environmental and social sustainability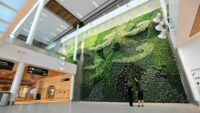 Edmonton International Airport (YEG) is growing by leaps and bounds in its sustainability initiatives. The airport's demonstrated sustainability leadership is noteworthy for our entire community to celebrate.


The list of environmental, social and governance initiatives could fill numerous pages of a story and the number of times you'll read 'first airport to…' will fill your heart with pride.


"One of YEG's core values is our dedication to sustainability," said Myron Keehn, the incoming president and CEO of YEG airport. "Airports have an important role in balancing economic growth, environmental care and social well-being. Now more than ever, sustainability is at the top of mind for the global marketplace, and the urgency of limiting rising global temperatures needs to be a priority on every organization's agenda."
YEG's sustainability journey started in the early 2000s and has rapidly progressed, especially in recent years. Here's where we list many of those firsts:

In 2021, YEG became the first airport in the world to sign The Climate Pledge, an initiative led by Amazon that now includes more than 300 global businesses and organizations pledging to be carbon neutral by 2040.

YEG and Air Canada signed the world's first sustainability agreement between an airline and an airport in 2021. The two are focusing on initiatives promoting a cleaner environment, including electrification of aviation ground-handling equipment, hydrogen fuel cell technologies, green power generation, elimination of single-use plastic items and much more.

We are the first airport terminal in Canada to receive LEED® Gold certification. It has allowed YEG to reduce the energy intensity of the terminal by almost 50 per cent while doubling the size of the building.

YEG is the first airport in Canada to begin regularly scheduled drone delivery operations in a controlled airspace. Using zero-emission drones to conduct final-mile delivery service will help reduce vehicle traffic and emissions and connect products to remote or isolated communities.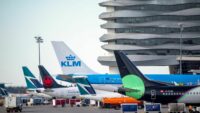 "Creating a sustainable airport means being socially responsible, focusing on environmental protection and dynamic equilibrium in human and natural systems," said Keehn. "Every business decision we make is driven by the environmental, financial and social aspects of sustainability. We cannot do this in isolation, and true change happens in partnership with others."


YEG is a place most people love to be because you're either leaving on a trip or welcoming someone here. It's also a place for learning and growth in various industries. YEG's Airport City Sustainability Campus is a hub of leading and emerging technologies from all sectors focused on decarbonization. The airport has over 170,000 sq. ft. of office space for the home of five incubators. Over 30 companies call YEG's sustainability campus home, creating over 300 jobs.
"YEG's Airport City is one of only two of its kind Canada, attracting $1.5 billion in investment over the past nine years," said Keehn. "It is a growing hub of transportation, cargo logistics, manufacturing, sustainability, technology development, hospitality and tourism. We are excited about the collaboration and innovation of all Airport City businesses who work to advance the commercialization of emerging clean technologies."


YEG is truly evolving to be much more than an airport. It's a community dedicated to ensuring a positive future for our planet and people.


Take a look at all the sustainability initiatives at YEG.