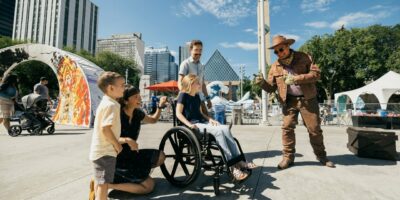 The Edmonton International Street Performers Festival is Back For Another Season
The Edmonton International Street Performers Festival is a vibrant celebration of creativity and entertainment that takes place annually in the heart of Edmonton. With captivating displays of acrobatics, music, comedy, and mesmerizing street performances from globally renowned artists, the festival has become a beloved event attracting visitors of all ages and backgrounds. Whether you're a local resident of Edmonton or a tourist exploring the city, The Edmonton International Street Performers Festival promises an unforgettable journey into the world of artistry.

To learn more about the festival, our team sat down with Elizabeth Hobbs, the festival's Director of Programming and Communications, to discuss the excitement that will soon grace Edmonton's downtown core.
The Edmonton International Street Performers Festival has been around for quite some time, can you tell our readers about its history in our community?
The festival's humble origins can be traced back to the concept conceived by co-founders Sheldon Wilner and Dick Finkel. In 1981, the City of Edmonton launched "Summerfest" as a Parks and Recreation Department project, serving as an umbrella for cultural celebrations. Summerfest provided the groundwork for numerous prominent festivals in the city, as the events developed under its banner eventually emerged as independent festivals of their own.

In 1985, Summerfest transformed into the Street Performers Festival, marking the first-of–its-kind in Canada. Since then, Edmontonians and visitors alike have been able to enjoy high-quality entertainment year after year.
For a second year, you are partnering with The Works Art & Design Festival. What can festival attendees expect to see from both partners this summer?
Our team is so excited to share the square for a second year to deliver a collaboratively thrilling multi-art celebration. Come for the performers, visual art, workshops, live music, food, walking tours, an all-ages patio, and endless possibilities!

Both organizations act as a barrier-breaker in terms of making art accessible. By removing the typical setting of a theatre or art gallery, we are able to provide the public with an unforgettable art experience. It is pretty special.
What are some of the logistics that go into organizing a festival at this level?
As you can imagine, there are a million different moving pieces that need to happen to make this festival the best it can be for our performers and visitors. Our dedicated staff members coordinate volunteers, secure accommodation and catering for performers and staff, and apply for tax waivers for international artists. Around six months out from the festival, it really is all hands-on deck in our office to make this festival run smoothly.

From a programming perspective, I watched approximately over 200 promotional video submissions from international artists hoping to be included in the festival. I have the honor to be able to select the artists that do come and grace Edmonton with their talent. It is a big job, but so rewarding, especially when I get to see them take the stage in July; a total full circle moment.
If this is someone's first time coming to the Edmonton International Street Performers Festival, what do you recommend they check out?
If this is your first time attending the festival, I recommend coming down to the square and immersing yourself in all the festival's offerings. Going in without a set plan can often lead to a more enjoyable experience. The shows run daily from 11:30 AM to 11:00 PM, providing ample opportunity to make a day out of it. Remember to dress appropriately for the weather and bring some cash, as our festival is free of admission and tipping the performers is always appreciated. Our team cannot wait to see you there!

The Edmonton International Street Performers Festival runs from July 7 to 16 at Sir Winston Churchill Square at 99 Street and 102A Avenue.

For more information, please visit edmontonstreetfest.com.