Diversity and Inclusion in the Arts: 10 Years of SkirtsAFire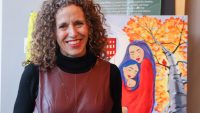 SkirtsAFire began as so many good ideas do: with red wine, popcorn, and a group of brilliant women!

The festival was created in response to the severe underrepresentation of women and non-binary artists at the professional level. Annette Loiselle, the Artistic Director of SkirtsAFire, grew up acting. The arts have been a part of her life for as long as she can remember, but she was always aware that there was less opportunity for women and non-binary folks in the theatre industry.

"I remember thinking," Loiselle told us. "Someday I'll see if I can do something about this."

And she certainly did. Loiselle gathered a group of female colleagues, and they began exploring the possibilities. The group landed on the idea of a multidisciplinary arts festival aiming to empower artists and audiences with performances, activations, and exhibits.
In conjunction with International Women's Day, SkirtsAfire runs from Mar. 3 – 13, 2022 at the Westbury Theatre in the ATB Financial Arts Barn, the Army & Navy building, and many other venues in the heart of Old Strathcona.

Starting out on Alberta Avenue, the festival has grown and evolved over the 10 years that it has been running. In 2020, for their largest festival which closed just before the pandemic, the mainstage show was held at the Westbury Theatre.

"That was a big moment for us, to be in a theatre for the first time," Loiselle reminisced.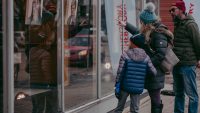 But alas, as with many other festivals and events, the COVID-19 pandemic derailed their plans. Of course, Loiselle didn't let that stop her and her team from supporting many outstanding performances in 2021. Instead, it led the group to the Army & Navy space where they filmed the mainstage play and filled the windows with visual art.
"We put a little stage there behind the glass so singer/songwriters could perform live, and we pumped their music out onto Whyte Avenue," said Loiselle. "One of the singer/songwriters just started crying during her set; she was so happy to be performing live again.
"Our poor industry has been so broken by the pandemic. So, yeah that was beautiful."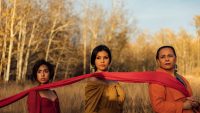 This year, the mainstage production is Ayita by Teneil Whiskeyjack, a modern-day creation story fusing theatre and Indigenous contemporary dance. Ayita navigates through her own story of sovereignty, breaking free from and transcending past personal pain, stepping into her healing and liberation, and awakening to her medicine.
"It's an Indigenous woman's story that is empowering and showing women as strength rather than weakness," says Loiselle. "So often in the media we see Indigenous women as victims, and I love that this play shows their true strength and resilience"
The lobby of the Westbury Theatre has also been transformed with Indigenous art for guests to experience before watching the show. Loiselle is excited for the expanded opportunity that this provides for local artists and for the audience.
"They're getting a sense of and a feel for Ayita before they even walk into the theatre just by taking in the art in the lobby."
For Loiselle, another highlight of this year's festival is the unique combination of artists, all brought together by their shared passion for the arts as well as for Edmonton.

"A festival like ours that's bringing this wide variety of artists together in a really kind of explosive, exciting way," said Loiselle. "I think Edmontonians are excited by that, and we also have an artistic community that really supports that.

"In Edmonton, people love the arts. People love their music, they love theatre, they love visual art."

SkirtsAFire is truly a festival that showcases the talented and diverse community here in Edmonton, and the work that Loiselle and her team have done to bring it to life is remarkable.