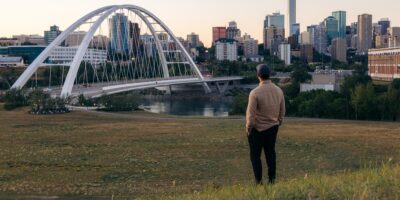 Navigating the Green Path: Explore Edmonton's Emissions Reduction Journey
More than ever before, the tourism industry has seen advancement in technologies that support a lower carbon economy in the greater Edmonton region and beyond. Over the past couple of years, Explore Edmonton has been on an ever-evolving journey to play a part in helping combat the global climate crisis.


September 21 marks Zero Emissions Day, a day focused on raising awareness of the impact of our daily emissions, the Explore Edmonton team though that it would be fitting to share some of the progress the organization has made towards a greener future.


After completing an eye-opening baseline calculation of Explore Edmonton's corporate carbon footprint in 2018, teams were finally able to understand where major emissions are generated. This marked a crucial starting point for the organization, as Explore Edmonton manages two major event facilities - the Edmonton Convention Centre (ECC) and the Edmonton EXPO Centre (EXPO) - in addition to serving as a Destination Marketing Organization.


To ensure that the organization was on a sound emissions reduction pathway, Explore Edmonton then set an ambitious target: to reduce corporate emissions by 30 per cent by 2035. With the objective of incorporating lower-carbon decision making into every business decision, Explore Edmonton established and resourced a growing team of sustainability and emissions experts, dedicated to making emissions reduction activities a priority in the organization's day-to-day decisions.


"After closely studying our emissions, we discovered that a significant portion of our emissions is related to energy and electrical use in our two major facilities," said Melissa Radu, director of Social and Environmental Sustainability at Explore Edmonton. "Our organization also delved deeper into our indirect emissions, examining factors such as emissions generated when our staff commute to work, travel for business, procure paper and materials for our operations, and manage waste produced in our operations," Radu continues.


"It's important to note that while these emissions contribute to a smaller percentage of Explore Edmonton's overall carbon footprint, our organization has taken actionable steps to empower our employees to reduce their own emissions when working in our facilities and beyond."


Looking to the future, Radu is optimistic that Explore Edmonton will continue to be an industry leader in the sustainability space. In August 2022, Explore Edmonton launched their highly anticipated Responsible Events Program (REP). This program offers a range of options, from supporting social justice movements to environmental 'giving projects,' providing event organizers and planners sustainable choices to offset emissions and reduce their events' impact in Edmonton.


"Programs like our REP and Carbon Neutral programs are excellent avenues to educate clients, helping them truly understand where they can reduce nonessential emissions in the planning and execution of their events," Radu stated. "It's important to note that carbon offsetting isn't the answer to our global climate emergency, but investing in verifiable and additional carbon offset projects is a short to medium-term solution to take responsibility and accountability for emissions generated during travel and events. We want our clients to feel empowered through their sustainability efforts. You can't manage what you don't measure. Our goal is to help make clients understand the real environmental impacts of their events."


Radu says that Explore Edmonton is well on track to meet its target of reducing emissions by half by 2035 and setting a net-zero target by 2050. The organization is also going one step further and pacing ahead of reduction targets.


In mid-September of this year, Explore Edmonton released a Carbon Reduction Plan outlining the organization's progress in their environmental stewardship journey thus far. To read the full report, please visit EE_GreenhouseGasesReport_2023_Final.pdf (exploreedmonton.com)