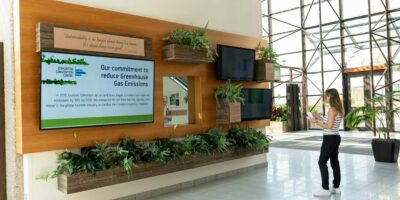 International Women's Day 2023
An Interview with Melissa Radu
Since 1911, International Women's Day (IWD) has highlighted the strength and achievement of women globally. This day of celebration is a reminder that all women, from all walks of life and ages, have a place in society, and pushes us to work towards a gender-equal world that is free of bias.


At Explore Edmonton, we celebrate all of our amazing female staff who bring visionary ideas to the table every single day. From our security team at the venues, to our people leaders, our team is full of inspiring women who put their heart and soul into making Edmonton a one-of-a-kind destination for visitors to travel to.


We sat down with Melissa Radu, Director, Social & Environmental Sustainability here at Explore Edmonton to talk about her experience working in the sustainability field as a woman.


Why do you think it is important to celebrate International Women's Day? 


I mean, selfishly, I want to say because I want to celebrate the women in my life. I come from a family of three sisters, so I'm one of three sisters, no brothers and a very strong group of female role models ranging from my Oma to my mom. I think that this day is an opportunity to tell them how wickedly amazing they are and how they have shaped my life.


How did you know you wanted to have a career in the sustainability field? 


I think there's always a moment in people's lives where they remember hearing about environmental damage, and they then go take action. For some people, it was the recycling course that many of us took in school, while for me it was Rachel Carson. She is one of the biggest female environmentalists from the 60's. I remember reading her book "Silent Spring" when I was young, it was all about biomagnification in wildlife and marine life. I remember this book to be a huge turning point for me to take my passion and get involved in environmental advocacy.


As an adult, I worked in the tourism and hospitality space for much of my career. I was considering going back to school to obtain an environmental law degree, but I soon decided that I wanted to lean into my wealth of experience in the tourism space and decided to do a Master's degree in sustainable regional development.


Have you faced any barriers in your career due to being a woman? If so, how did you overcome them? 


When you're a female sustainability professional and have a goal to drive change, a lot of times you must be prepared to take what you want to do all the way back to the why. Explaining my actions is something that I have found I get easily fatigued by. I really had to work on trying to not let those external voices chip away at my motivation, to keep advocating and doing the work, because truthfully, it can be easy to. So, in order to establish a reputation that you know what you're doing, you've got to have sound research and science behind you and you've got a solid direction that people should follow. It takes, I think, for a woman a lot longer to get to this point.


How does climate change affect women?


This is such an important question! All climate change work is climate justice work, end of story. There's a social cost to climate change as much as there's an environmental cost. And what I mean by that is that there are so many individuals in this world who are disproportionately affected by things like extreme weather changes and biodiversity loss. These changes to our natural systems may not be felt as much here in Edmonton, but can be felt differently by geographic and demographic.


Women tend to be part of the population that has a higher mortality rate. Part of the reason for that is women are often the caretakers of their family, meaning that they are more likely to stay behind if an extreme weather event happens. Around the world, women typically have a lower rate of owning a vehicle or having access to transportation.


What does it mean to you to be a female leader in the sustainability field? 


There's a lot of climate anxiety out there right now, and our younger generations, I think people are looking for hope that we can restore a lot of the damage that's been done, and I think when dealing with climate change anxiety, people deal with that always in a very personal way. For some people, it can be really demobilizing; it can make them feel the sense of hopelessness or helplessness to change anything. And I think for some others including myself, take concrete action to help deal with our own climate anxiety. I feel happy to know that my actions have an impact.


What would you like to say to women who are wanting to have careers in the sustainability field? 


I think that it is important to say that it is not easy to be a woman working in sustainability. You must be willing to be courageous and optimistic about protecting the planet. Having a support system is so important in this line of work. There are a lot of great women and people who make working in this space easier. Encourage curiosity! Every day, I see women who have so much potential to be leaders in our field. I am so excited to see what the future has in store.