As the world has shifted to virtual hangouts and meetings, we have created several Edmonton-themed virtual assets that can be used to spice up your desktop backgrounds, Instagram stories and Zoom calls. Show friends, family and colleagues your Edmonton pride, and remember to use #ExploreEdmonton!
Desktop & Mobile Backgrounds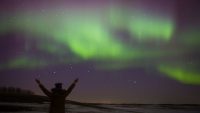 Check out our new Explore Edmonton GIFs, available on Giphy through platforms like Snapchat, iMessage, Twitter, Facebook, Instagram, and Teams. These colourful stickers can be used to add a little Edmonton to your Instagram stories, chats, posts, tweets and snaps.