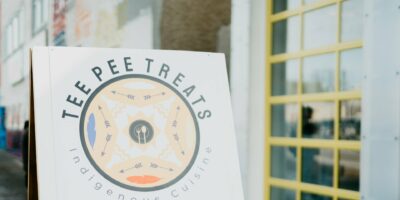 Tee Pee Treats Indigenous Cuisine
Bannock infused creations.
Contact Information
Street Address

9641 102A Avenue, Edmonton, Alberta
Tee Pee Treats Indigenous Cuisine is a 100% Indigenous owned business that serves contemporary bannock infused dishes in downtown Edmonton. Their menu consists of a wide variety of delicious bannock infused creations and savory soups and salads! Try the Bannock Burgers, Bannock Donairs, and other favourites like Indigenous Bannock Tacos, Bannock Pizza Pops, and Bannock Fries.