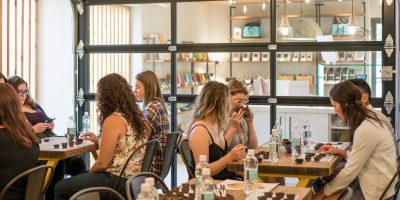 Jacek Chocolate Couture is as 'uniquely Edmonton' as it gets. With a booming food scene and a force of creative entrepreneurs, Edmonton foodies are not intimidated by the fusion of fashion and ethically sourced chocolate. The dynamic result of artisan chocolates released in collections with the seasons, similar to a high-end fashion designer, is not only stunning but loaded with innovative flavour profiles. Previous collections include Colours, Alice in Wonderland, and Nostalgia.
Among all the pairing events and chocolate tastings, the cherry on top has to be the company mission statement, "to spread joy." Is there a better way to spread joy than with chocolate?

Thrill your senses and check out one of JACEKS' chocolate experiences! Held at the JACEK Chocolate Studio in Sherwood Park, you'll get to walk through the chocolate making processes, learn the regional difference in flavour and take a tour behind the scenes, where you can see all the chocolate making magic! To finish the evening off, take part in a tasting and learn how to pair chocolate with other ingredients. You'll be in chocolate heaven!
Must try: The Petit Bar collection!