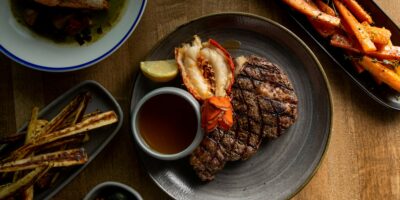 Hayloft Steak + Fish
Contemporary dining in South West Edmonton.
Contact Information
Street Address

639 Cameron Heights Drive, Edmonton, Alberta
Chef Paul Shufelt has opened Hayloft Steak and Fish and a third location of Woodshed Burgers in the southwest Edmonton neighbourhood of Cameron Heights, adding to the Robert Spencer Hospitality stable alongside Workshop Eatery and The Greenhouse.
At its core, Hayloft seeks to offer something different from a traditional steakhouse. The inspiration takes Shufelt back to his younger days, eating the bounty of the season and cooking simple comfort food, like his mom used to. One thing's for sure, this upscale eatery is a perfect choice for a celebratory dinner!