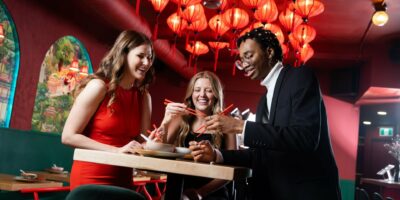 Fu's Repair Shop
They fix you good!
Contact Information
Street Address

9902 109 Street, Edmonton, Alberta
Welcome to Fu's Repair Shop, a hidden gem nestled in the heart of Edmonton. Here, you'll find a unique blend of classic Dim Sum and Chinese fusion dishes, perfectly complemented by an imaginative cocktail menu that showcases pan-Asian flavours and in-house made syrups! If cocktails aren't your thing, no problem – just grab one of their famous Lucky tea pots, filled to the brim with refreshing Lucky Lager beer. Despite its small size, Fu's Repair Shop packs a punch and is sure to leave you with a mighty dining experience alongside a cool, vintage-esque atmosphere.

Recommendations: Try the Pork Wontons in Chili Oil, the Siu Aap Spice Duck Tacos, and the House-Made Ice Cream for dessert!