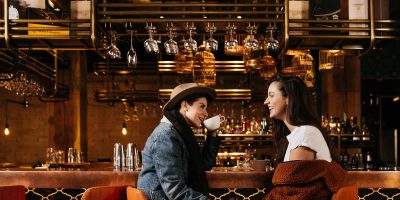 DOSC
Craft coffee house meets steakhouse and cocktail bar at this charming downtown restaurant.
Contact Information
Street Address

10190 - 104 Street NW, Edmonton, Alberta
Inside this café, cocktail bar and steakhouse you will find inviting brick walls, dark wooden and mosaic tiled floors, and a central coffee bar adorned in wood and brass. The first half of downtown's DOSC features the Sober Cat Cafe, proudly serving up delicious baked goods and Rogue Wave Coffee. Mid-century modern tables and velvet couches line the café's windowed walls overlooking the 104th Street Promenade - perfect for a business meeting or for a catch-up with friends. Venturing further inside, DOSC seamlessly transforms into a stunning cocktail bar and steakhouse with an elegantly decorated and extremely well-stocked brass-topped bar.
You really get the best of both worlds - stop by in the morning for a coffee and return in the evening for a steak and sophisticated cocktail. It's all in a day's work, my friends.