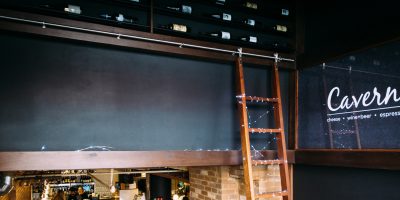 Cavern's modern-chic atmosphere in the historic Phillips Lofts Building on 4th Street Promenade delivers an exceptional bistro/wine bar experience.
Start your day at Cavern with Coava Roasted Coffee and light breakfast food. Lunch offers gourmet baguette sandwiches, organic salads and perhaps even a glass of wine if mid-day indulgence is on your agenda. Favourites on the menu include French or UK-inspired brunch regardless of the time of day and the seasonally available Cavern Picnic Box. The evening wine bar allows you to explore Cavern's signature: the spectacular world of artisanal cheese and charcuterie along with a tantalizing wine list.
Cavern was voted best wine bar in Edmonton by Air Canada Altitude in February 2015. Also, voted Best Cheese Shop by Golden Fork in 2014, Cavern offers 75-100 different artisanal cheese varieties for retail sale at their full-service deli counter. Cheese is carefully selected according to quality standards and seasonality. If you are looking for a hostess gift Cavern will curate gourmet delectables and package them with Old World charm that will surely delight your host. Cavern also offers monthly cheese club subscriptions with deliveries right to your doorstep of the choicest cheese & charcuterie. Cavern Cheese Club makes a phenomenal gift for the discerning foodie or the impossible to buy for individual, whatever the occasion.
Tasting events like Cavern Cheese School and collaborations with wine-makers and others within the food & wine community occur monthly at Cavern. Cavern is the perfect setting for a private party where every little detail is taken care of in order to create a magical and unforgettable evening.
Must try: let them pick the wine and cheese for you!