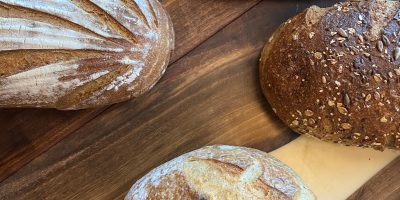 Bread + Butter Bakery
Fresh, airy loafs and handcrafted sweet treats.
Bread + Butter Bakery brings the passion for baking to Riverdale. This bakery features small-batch, made-in-house, specialty goods. The grand bread wall houses fresh artisanal breads that can be paired with a variety of flavoured butters and the display case is always filled with mouth-watering signature sweets and savoury pastries. All their bread and pastries are made from scratch. Make sure you try their signature sourdough which is made using a wild yeast starter and a poolish - you can literally taste the time and care that goes into each loaf. Stop by from 9:00am - 4:00pm daily and stock-up on fresh baked goods and handmade treats.

Must try: the Signature Sourdough or Gluten Free Focaccia.