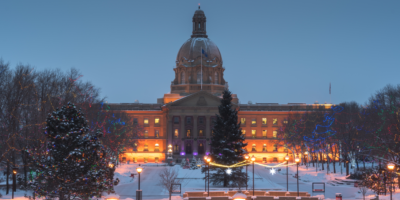 sustainability strides in 2022
Explore Edmonton makes massive sustainability strides in 2022
Explore Edmonton Corporation made dramatic improvements in its sustainability efforts in 2022.


After becoming the first western Canadian city to embark on the Global Destination Sustainability Index (GDS-Index) annual benchmarking process in 2021, Explore Edmonton is celebrating the strides that it has made to make Edmonton a more sustainable destination for both residents and visitors of the city over the past year.


The GDS-Index highlighted that Explore Edmonton increased their general score by five per cent. Massive strides can be seen in the Destination Management Organization (DMO) category, with an impressive increase of 23 per cent.


Over the past year, Explore Edmonton has implemented several local social, environmental, and economic causes and programs that have helped raise the DMO percentage an impressive amount.


"Explore Edmonton has proudly launched six new sustainability content-based training courses over 2022 with the goal of helping provide staff with a more in-depth knowledge of sustainability, its practices, and what Explore Edmonton is doing to meet local and global environmental targets," said Josef Legaspi, who is the sustainability coordinator, project specialist for Explore Edmonton.


In August of this year, Explore Edmonton launched their highly anticipated Responsible Events Program (REP). Ranging from projects that support social justice movements, to environmental 'Giving Projects,' the REP provides tangible options for event organizers and planners to choose from that not only align with their event's goals but can be rolled out regardless of the event's size, type, or budget.


"It is no hidden fact that sustainability is a journey," said Legaspi. "Making an impact starts at a community level and can take time and engagement. Our team is ready to put in the long-term effort for actionable results."


The GDS-Index is the world's leading sustainability performance program for business tourism destinations and hubs around the world. It is used globally by over 80 cities and helps provide actionable benchmarks for municipalities and their local tourism industries. The goal of the GDS-Index program is to lay a foundation for local sustainability performance and strategies for municipalities, its tourism supply chain, and its destination management organization.


With this program being used globally by over 80 cities, the GDS-Index helps provide actionable benchmarks for municipalities, with the goal to help lay a solid foundation that tackles local sustainability performance and strategies, its tourism supply chain, and the destination management organization.


"Sustainability is not one person. It is everyone who owns a business that supports tourism, whether that be an experience, consignment shop, or restaurant" said Melissa Radu, director of Social and Environmental Sustainability at Explore Edmonton. "The GDS-Index is helping us better understand how we can move together collaboratively and create a shared inspiration to continue to do better together as an Edmonton community."


As a DMO, Radu says that Explore Edmonton understands that there is a growing need for sustainable and responsible tourism in today's global context. The corporation's goal is to learn where improvements can be made in key sectors, such as biodiversity, waste management and carbon emissions. Radu said that Explore Edmonton is proud to be constantly growing and making a name for itself in sustainable tourism.


As the year ends and the Explore Edmonton team looks ahead to the new year, Radu said that the goal to keep performing at the top of North American destinations does not waiver, and the GDS-Index results allows the organization to look towards continuous improvement.


"Explore Edmonton is excited to continue promoting destination sustainability in the Edmonton community and looks forward to being able to collaborate with other GDS-Index tourism destinations globally to create a more inclusive and sustainable world for all."


To see the full results, visit: Edmonton 2022 Destination - GDS-Movement