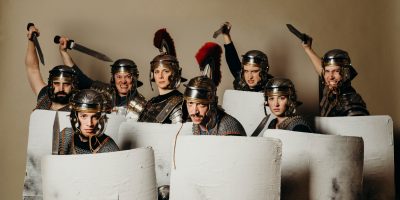 Winter Shakespeare Festival
Don't miss Malachite Theatre's first annual Winter Shakespeare Festival. This season brings two stunning, new, site-specific productions of the Shakespearian classics, A Midsummer Night's Dream & Julius Caesar.


A Midsummer Night's Dream (January 4 - February 1, 2020)
Shakespeare's hilarious summer comedy is given a stunning winter makeover in this riotous new production. Join those merry mechanicals, libidinous lovers, and quarrelling faeries in the mysterious depths of the forest this winter, as the mischievous Puck leads you on a journey back to the 1940s, to a time when the war may be over, but the peace was not yet won. This moving tale of love and redemption promises to be the darkly comic winter dream you have all been waiting for!

Julius Caesar (January 9 - February 2, 2020)
Shakespeare's timeless tale of a tyrant's rise and fall is brought bursting back to life this winter, with a pulsating new production. The future of the Republic rests upon the edge of a knife. A faction of loyal conspirators plot to save Rome from the throws of tyranny, but what happens after the tyrant's fall? And who can protect the Republic from its even more dangerous enemies within? Join the Winter Shakespeare Festival this year, to be transported back into the vibrant - yet
eerily familiar - world of Ancient Rome, in an epic new production that is not to be missed!

The Winter Shakespeare Festival runs 7:30pm Wednesday - Sunday with matinees at 1:30pm on January 24 for A Midsummer Night's Dream and January 31 Julius Caesar.