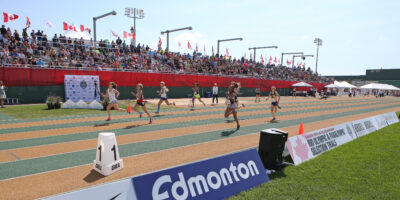 Warm-up to Worlds Invitational
Edmonton's Fastest Day Ever!
July 3, 2022
Time

Street Address

Foote Field, Edmonton, Alberta
World records may be broken on July 3 at Foote Field.

It's been almost 20 years since Edmonton has hosted a track and field championship, and on July 3 at Foote Field, Athletics Alberta is bringing you some of the best athletes in the world! Athletes from Team Canada like Edmonton's own Marco Arop will compete against other top-tiered track and field starts from around the world.

Round up your family and friends and prepare for an exhilarating summer day as you watch some of the fastest humans alive compete on the track. In the spirit of Canada Day long weekend, come out to cheer on your Canadian Athletes and don't forget your flags!

Only 3000 people in Edmonton will be able to witness this one-of-a-kind event in person, so don't miss your chance to jump on securing your tickets!