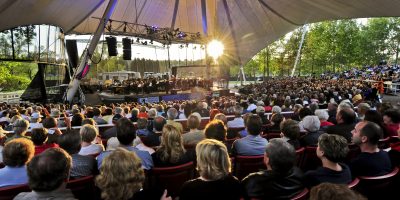 Symphony Under The Sky
Take in everything from classical treasures to blockbuster Hollywood film scores.
September 1 – September 4, 2022
Time

Street Address

Hawrelak Park - 9330 Groat Rd NW, Edmonton, Alberta
Start your September off right with Symphony Under The Sky from September 1 to 4! Beloved guest conductor Robert Bernhardt returns for the popular festival's 26th year at the Heritage Amphitheatre in Hawrelak Park. Enjoy music from all of your favourite film scores and iconic composers.
Do you love movie music? Check out Hollywood Hits on September 1 & 3! You'll hear the iconic songs from cherished films such as Disney's Aladdin, Back to the Future, How to Train Your Dragon, Fiddler on the Roof, The Little Mermaid, Harry Potter, and more.
Festival Favourites on September 2 & 4 includes familiar Classical pieces from beloved composers, including Mozart, Beethoven, J Strauss, Bizet, and more.